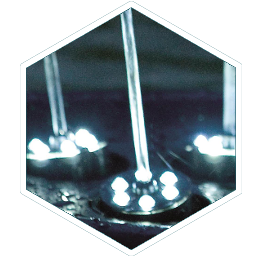 Dancing Water Features
Dancing Water Features are pre-programmed water displays, ideal for use in ponds, garden landscaping, patios or indoors. These features are simple to install and all OASE dancing water features include integral LED lighting and can be controlled via the supplied remote control handset. The OASE Rainbow Star will produce a jumping laminar water jet which can be syncronised with a second jet. Laminar water jets produce virtually no splashing as they leap through the air so the water arches can be walked under.
Our Patio & Garden Installation pack makes installation in an outdoor area or patio even easier. The kit includes a flexible rubber liner, protective underlay and overlay, steel safety grid and pump access hatch, allowing a hole to be excavated in soft ground. The lined hole can then be used to house the dancing water feature pumps underwater and the steel grid used to cover this.
Decorative stones such as pebbles or slate chippings can then cover the grid from view yet allow the water to fire up and dance. As the reservoir water is covered from view, there is generally no need to install a filter system as sunlight cannot penetrate the water to cause algal bloom. Leaves are also trapped by the stones which prevents the water from being soiled.