The OASE FiltoClear is the perfect solution for filtering your pond water, without the usual issue of disguising an ugly black box.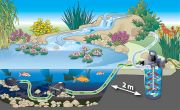 The filter contains a built-in UV Clarifier which will help to reduce green water caused by single celled algae growth. As the system is pressurised (i.e. the filter is a sealed unit), the water can be pumped through and uphill if needed, making this ideal for powering a stream or waterfall. The filter can also be buried up to 70% below ground level making this very easy to disguise from view.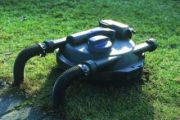 Unlike many 'black box' gravity flow-through filters, the pressurised FiltoClear can be used with flexible hose between the pump and filter but also between the filter and the water discharge point. Flexible hoses can be buried underground if needed, which is far simpler to install than solid plastic pipe.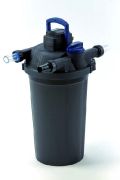 The recent release of the upgraded model Filtoclears means more powerful UV wattage and filtration performance. The largest unit (Filtoclear 30000) can now process ponds of up to 30,000 Litres (around 6650 Gallons) or Koi stocked ponds of up to 7,500 Litres (1650 Gallons).
The simple yet innovative cleaning mechanism allows sludge to be purged out without the need to open the filter housing. The waste water and sludge makes excellent fertiliser, so this should be spread on plant borders – not tipped down the drain.!
In addition to the 6 choices of individual filters, OASE have carefully selected a range of Filtoclear Sets containing an optimally matched Aquamax ECO Premium pump. These filter pumps are leading the way with regards to energy efficiency, which is an important factor as most pond filters should be left to run continuously.
Water Garden have provided a wealth of information on the FiltoClear product range to help you decide on the most suitable system for your needs. Our main page includes a handy selection chart and each product page includes detailed dimensions, power requirements and video.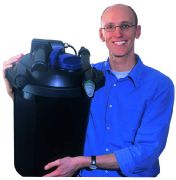 Of course, we are here to help if you need advice so feel free to email or call us for expert guidance.
View the full range of FiltoClear Pond Filters Here
View our Video Library – Pond Filters