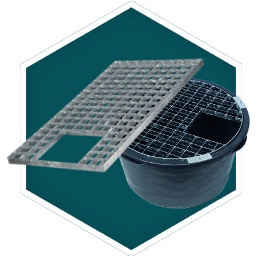 Underground Water Reservoirs
Our Architectural Water Reservoirs are made from robust black polyethylene and designed for below ground installation. The reservoirs come complete with Support Grid & Pump Hatch and will comfortably support weight of 150 kgs. Large water capacities make these ideal for Water Features or Fountain displays and the flat surface offers easy levelling and stable installation. Our Ø140cm reservoir will hold up to 1000 Litres of water and has a depth of 90cm (3ft), ideal for large fountains or water features with higher water demands or as a ready-made fish pond. This reservoir can also be used with the 140cm Steel Grid for feature mounting.
Water Garden's range of water feature reservoirs and grids are ideal for mounting larger water features such as rock monoliths and water sculptures and can support up to 150Kg without additional support. Each galvanised steel grid is supplied with a 20cm x 20cm removable hatch for allowing access to the water feature pump without the need to remove the entire support grid. We can also offer the galvanised steel grids separately for use in covering existing feature pools and the rectangular grids are particularly useful when covering long, narrow channels such as water cascade and water blade pools.
Water reservoirs are also practical for pondless water features such as recirculating streams and cascades and a rubber pond liner can be bonded to the lip of the water tub to allow the pumped stream flow to return to the hidden sump. Rubber pond liners can also be used to increase the water catchment area should a larger fountain display be required. The liner will allow any water splash to return to the central reservoir without the need to excavate a much larger hole.