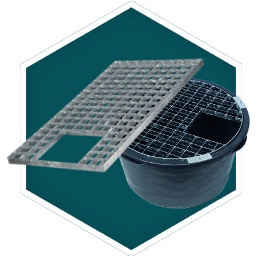 Underground Water Reservoirs
Our Architectural Water Reservoirs are made from robust black polyethylene and designed for below ground installation. The reservoirs come complete with Support Grid & Pump Hatch and will comfortably support weight of 150 kgs. Large water capacities make these ideal for Water Features or Fountain displays and the flat surface offers easy levelling and stable installation. Our Ø140cm reservoir will hold up to 1000 Litres of water and has a depth of 90cm (3ft), ideal for large fountains or water features with higher water demands or as a ready-made fish pond. This reservoir can also be used with the 140cm Steel Grid for feature mounting.
Finia reservoirs feature plastic support lid and can support water feature weights of up to 250kg (evenly distributed) and up to 1000kg on the largest model. Due to the shape of the Finia reservoir, the amount of water storage is not as large as our Architectural Reservoirs but the Finia's moulded shape increases its strength and load capacity.
Our plastic Pebble Pools are ideal for creating a small fountain in the garden, quickly and simply. The mini-reservoir can be used to submerse a small fountain pump and the 1 metre diameter collection tray can be used to stack decorative pebbles around the fountain display.