Aquarium Filters
The OASE range of aquarium filters represent superb value for money and are packed with innovations to ensure your indoor aquarium is kept in peak condition. These fish tank filters are suitable for use in cold water, tropical or marine environments and are suitable for tanks from 25 litres up to 600 Litres capacity. The OASE BioCompact and BioPlus filters are designed for internal mounting whilst the OASE FiltoSmart and BioMaster canister filters can be mounted externally for crystal clear water clarity.
OASE Aquarium Filter characteristics at a glance:
BioCompact Internal Filters
The BioCompact 25 and 50 models are ideal for smaller fish tanks and nano aquariums up to 50 litres and are designed for mounting inside the aquarium itself. Cost effective, energy efficient filtration with integrated pump and can be mounted vertically or horizontally. The BioCompact are therefore also suitable for Paludariums where shallow water is required. BioCompact filters carry a 3 year OASE guarantee.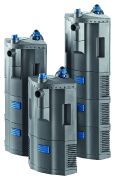 BioPlus & BioPlus Thermo Internal Filters
The BioPlus aquarium filters can be corner mounted and will suit fresh water, marine and tropical aquariums from 50-200 litres capacity. The BioPlus design feature a magnetic frontage which can be pulled away for cleaning of the filter elements. The removable magnetic section leaves the pump and filter back section still connected to the tank, making maintenance far simpler and quicker. The BioPlus Thermo range also contain the new OASE HeatUp adjustable heater for precise control over the tank water temperature. BioPlus series filters cary a 4 year OASE guarantee.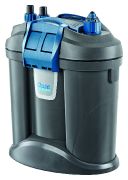 FiltoSmart & FiltoSmart External Filters
The FiltoSmart canister filter is perfect for externally mounting in a cabinet and is suited to marine, tropical and cold water fish tanks from 100 Litres to 300 Litres capacity. The FiltoSmart features an integrated pump and has a number of useful innovations including a shutoff valve which prevents unwanted water escaping during cleaning. The large filtration surface area reduces the need for frequent cleaning and the FiltoSmart Thermo version features the OASE HeatUp heater for exacting control over the aquarium water temperature. FiltoSmart series filtration units carry a 3 year OASE guarantee.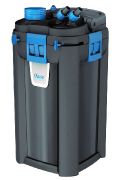 BioMaster & BioMaster Thermo External Filters
The BioMaster is the top-of-the range external filter, designed by OASE Engineers in Germany to perform with the minimum amount of maintenance in tropical, marine and fresh water aquariums from 250-600 Litres tank volume. The special EasyClean pre-filter module can be easily removed during operation and doubles as a priming button for quick start up. The integrated pump flow can be adjusted easily on the filter body and the filter is available with or without HeatUp heater. Various types of filtration media are used within the BioMaster including the patented Hel-X biomedia which supports an impressively high surface area for beneficial bacteria to thrive on. The BioMaster series aquarium filters carry a 4 year OASE guarantee.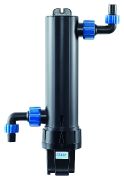 ClearTronic Aquarium UV Clarifiers
The ClearTronic range of externally mounted UV Clarifiers help to reduce pathogens and green water caused by suspended algae growth and bacteria. Available in 7 watt, 9 watt and 11 watt guises, the ClearTronic can be mounted horizontally or vertically, ready for connection to a suitable pump or filter with integrated pump. ClearTronic UV Clarifiers carry a 2 year OASE Guarantee.