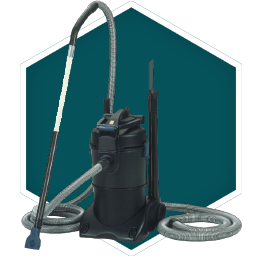 Pond Vacuum Cleaners
Water Garden offer the very best in pond vacuum cleaners, using the market-leading aquatic technology from OASE. A pond vac is specifically designed to extract pond sludge, pond weed and rotting debris which if left unattended, can harm pond life and produce unpleasant odours. Spring, summer, autumn or winter, there are always things to do in every season to keep your pond healthy and attractive. In order to maintain a healthy biological balance, particularly in spring and autumn, the pond must be cleared of excessive plant remains, and sludge must be vacuumed out. This will also place less stress on pond filter systems, maximising their effectiveness.
Oase Pondovac pond vacuum cleaners suitable for use in both pond and swimming pool, for effective sediment prevention by removal of existing silt, aquatic weed, solid fish and wildfowl waste, flocculated dead algae, leaf debris and other floating and sunken particles.