Self-Priming Pool Pumps
Efficient self-priming pumps ideal for feeding filtration systems on Koi ponds or swimming pools or supplying flow to water features, waterfalls or streams. These pumps can be dry installed above water level (self-priming) or below water level (flooded suction), delivering good flow rates up to 30,000 litres per hour with vertical lift capability up to 23 metres. See below for Sta-Rite pump comparison data.
The Sta-Rite pool and pond pumps feature large strainer baskets for debris extraction, are very quiet in operation, incur minimal turbulent losses through 2" wide inlet and outlet ports and deliver very high performance for comparably low power usage.
Sta-Rite Pool Pumps - Key Performance Figures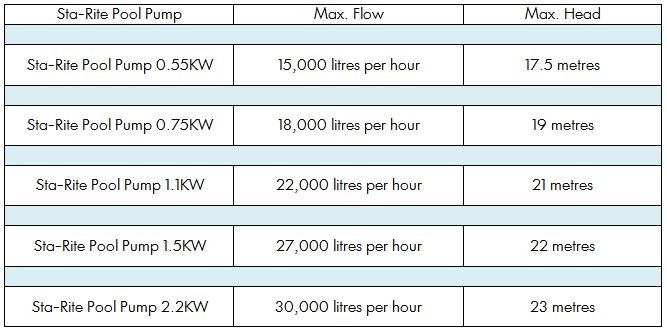 Performance Curve Chart