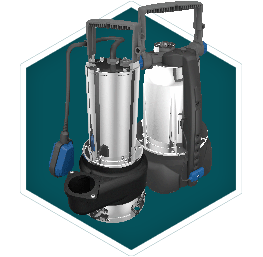 Drainage & Irrigation Pumps
Water Garden UK offer a range of high quality OASE Drainage and Irrigation Pumps to suit a variety of pumping tasks. The OASE ProMax series are engineered in Germany and offer superb performance and reliability. The ProMax MudDrain Drainage Pumps can tackle large solid waste particles up to 40mm diameter (MudDrain models 20000 & 25000) so are ideal for evacuation of ponds, lakes and construction site use. The ProMax ClearDrain pumps are capable of puddle sucking down to 1mm water depth so are well suited to draining cellars and wet work areas.
OASE Drainage & Irrigation Pump comparisons at a glance.
OASE Germany have developed the new ProMax range of garden irrigation and submersible drainage pumps to satisfy a wide range of watering and extraction demands. The ProMax range includes powerful solids-handling extraction pumps for soiled water removal on building sites or pond emptying. The clear water evacuation pumps are well suited to both indoor or outdoor areas and feature flat suction capability for removal of water within 1mm of the floor. The ProMax Garden Irrigation pumps provide high pressures, allowing long hose runs and elevated irrigation by using rainwater harvesting tanks or sumps to feed the water to the externally mounted pump. Finally, the OASE ProMax Pressure Well Pump is for use in well pipes or reservoirs to deliver flow to high vertical lifts if needed.
OASE MudDrain Drainage Pumps
- Suitable for dirty and heavily silted water extraction
- Considerable solids handling capability from Ø30mm to Ø40mm
- Flow Rates from 7000 - 25000 Litres/Hour
- Automatic Float Switch Sensor supplied
OASE ClearDrain Drainage Pumps
- Suitable for clean or slightly turbid water drainage
- Puddle Sucking capability down to 1mm water depth
- Compact design allows mounting in a very small sump
- Flow Rates from 7000 - 14000 Litres/Hour
- Float Switch or E-Sensor supplied
OASE ProMax Garden Classic Irrigation Pumps
- Ideal for garden irrigation, connecting to rainwater harvesting tank or sump
- High pressure irrigation from 4.2 - 5 bar (50m Max Head)
- Flow Rates from 3000 - 4500 Litres/Hour
- Capable of suction lift of up to 8 metres
OASE ProMax Garden Automatic Irrigation Pumps
- Automatic irrigation on-demand for garden or agricultural use
- High Pressures from 4 - 6 bar (40-60m Max Head)
- Flow Rates from 3500 - 6000 Litres Hour
- Capable of suction lift of up to 8 metres
OASE ProMax Pressure Well Irrigation Pump
- Small diameter multi-stage pump for water wells as small as Ø10cm
- Can be mounted vertically in a well or horizontally in a sump
- Submersible down to 20 metres water depth
- 30 metres of 230V electrical cable supplied
- High pressure pumping of up to 5.7 bar (57 metres head)
- Flow Rate of 6000 Litres/Hour