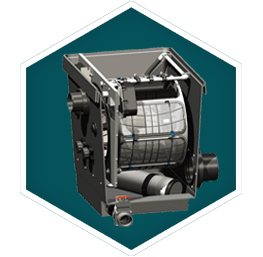 Pond Filters at Water Garden
A filter is a vital part of maintaining the ecological balance in any pond or large water feature. OASE Pond Filters will process the water and help to remove debris and algae, keeping the water quality in top condition. Water Garden supply fish pond filters starting with the Filtral all-in-one filter and UVC, pressurised and gravity fed systems for small to medium sized ponds, through to the latest drum and moving bed modular systems for large Koi and ornamental ponds. We also supply complete sets consisting of pond filters and pumps with ultraviolet clarifiers to suit ponds and lakes.
Need help with selecting the right type of filter for your pond?
You may have noticed that there are a lot of choices with regards to pond filters here at Water Garden Ltd, but this is not an attempt to confuse you! The main reasons are that each pond has a number of factors which affect the type of filtration system needed.
As a general rule, the decision is based on the total water volume in the pond or water feature, but also whether this has small fish or larger varieties such as koi carp. Large ornamental fish, koi or greater quantities of small goldfish will put a greater strain on the ecology of the pond, so the filter needs to be geared up to cater for this demand.
We are always more than happy to offer guidance and EXPERT advice to ensure you are making the right (and most cost effective) choice of Oase filter system. Please call or email for help if you need it!
View our Pond Filters Selection Guide
View Our Filters Video Library
See our OASE PDF Instruction Downloads