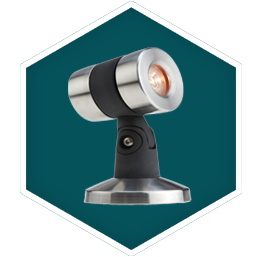 Pond and Garden Lights
Water Garden offer a superb range of pond lights and garden lighting in both halogen and low energy LED. This range includes fully submersible OASE Lunaqua pond lights which are also suitable for garden installation. Solar powered garden lights, innovative 'Plug & Play' LED lighting systems for pond and garden, high performance underwater lights for larger ponds and water features, together with stunning oil lamps and torches and illuminated pond mist makers.
Illumination can add an extra visual dimension to gardens, ponds and water features, extending enjoyment of your outdoor space well into the evening and beyond on those warm Summer nights.
Modern outdoor and submersible lights are available in a wide range of types, concepts and colours to suit almost any requirement. Most outdoor and underwater lighting today is done with high-performance, low voltage LED lighting products which offer all of the performance of old-fashioned mains powered halogen lights, at a fraction of the running cost (due to very low generation of wasted heat from modern LED light technology).
The types of LED light available are diversely designed to suit a range of different installation requirements. These types range from freestanding spotlights and floodlights, to recessed fittings for flush-mounting (decking and driveway), strip and string lighting for walls, trees, streams and waterfalls, and wall-mounted fixtures for decoration and down-lighting. All LED lighting products supplied have a minimum of full weatherproof rating and many are submersible for pond use too.
Our ranges of LED lighting products can be loosely grouped into 3 colouration categories; Warm White, Cold White and Colour-selectable RGB (remotely controlled). Warm White LED is colour temperature 3000K, comparable to indoor halogen lamps. Cold White is colour temperature 4000K and is neutral, Brilliant White, sometimes referred to as daylight colour temperature. RGB LED use 3 principle colours (Red, Blue and Green), to produce an array of different true and mix colours. RGB lights typically allow 8 or more colours to be selected including all of the most popular colours (Red, Yellow, Green, Blue, Cyan Blue, White, Orange, Purple), as well as colour changing, jumping and phasing settings. RGB lights are controlled remotely, either with a supplied remote control, or in the case of the OASE ProfiLux LED RGB, from a mobile phone or tablet!
Submersible LED lights can be a fantastic addition to ponds and water features, with products available to suit any scenario, from small garden ponds, to independent water features and even very large extravagant fountain displays. German manufacturer OASE Livingwater are one of the frontrunners in producing submersible LED lighting equipment for all scenarios. OASE Submersible LED lights vary from the small and simple LunAqua Mini LED Pond Light Sets, right through the ultra-powerful ProfiLux Commercial Fountain Lights, as well as many more small, mid-range and large submersible lighting products to bring pond and water features to life at night.
Plug & Play LED concept lighting systems are a great way of illuminating many different areas and features of the same garden landscape from a single power supply. These light systems incorporate all low voltage fixtures and cables which eliminates the need to dig up the existing landscape to trench cables. Plug & Play systems are incredibly simple to install and are very easily adaptable should you wish to make additions to the installed lighting circuit at any time.
LED is a very reliable form of light fitting, generally expected to last in excess of 50,000 hours, which based on use over 12 hours of each 24 hour period (every night), is over 10 years! Some products such as the OASE LunAqua Classic LED and OASE LunAqua 3 LED feature MR16 type LED fittings, which are replaceable. OASE lights generally carry a very lengthy guarantee for added peace of mind.