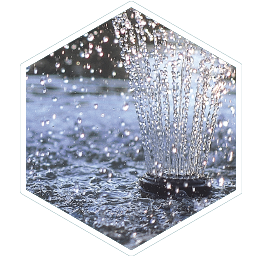 Water Features & Fountains
Water Garden supply a massive range of stunning water features for use in the garden, patio, pond or within the home. Please feel free to browse the categories shown below. A Water Blade is an excellent way of creating a cascading sheet of water into a pond or can be mounted into a wall or sleepers as a stand-alone feature. Outdoor fountains can be combined with our range of fountain nozzles to create beautiful water displays. We have a large range of stainless steel water features in addition to Copper and Rainbow Sandstone options.
Water Features make a great centre piece in any garden, and can add to the tranquillity of the area. There are many varieties of water feature on the market, which makes choosing the right feature somewhat of a daunting task.
The first thing to consider is size. Plan out the site you wish the feature to be installed in. The feature should be suitably sized to the amount of space available, ideally the larger the free space available the larger the feature should be to match the scale.
Secondly, the material it is constructed from needs to be considered. Stainless steel can give a great effect however if you are very close to seawater the salt carried in the air can force the stainless steel to begin oxidising, and copper can be toxic in fish stocked ponds if dissolved in water and then consumed. Stone and Poly-resin are fully safe in virtually all environments but may cost slightly more and should be protected with a lined cover to prevent damage in extreme weather conditions.
Once this has all been considered, you can narrow down the search on which feature to choose. The last part is all down to personal taste and trying to remain in keeping with the style of your garden.
Once the water feature has been chosen, installation can begin. Depending on the size and complexity of the chosen feature, a professional landscaper/aquascaper may be required to assist in the construction and installation. Water Garden has strong relationships with many professional landscapers and waterscapers across the UK which can provide this service, who we will be more than happy to provide contact details for.
Maintaining your feature is a simple task. If direct sunlight is causing algae problems then algae preventative treatments can be added to the water to greatly reduce this issue. The pump (if there is one) should be cleaned approximately once every 3-4 months and during winter months a weatherproof feature cover can be fitted to prevent frost and harsh conditions attacking the surface finish.
Water Garden offer a wide variety of water features and fountains including Henri Studio stone features. Our selection of water features are available in a variety of materials including stainless steel, copper, stone and weather resistant poly-resin. Many of the features and garden fountains are self-contained, meaning there is no need for a reservoir and can be installed almost anywhere indoors or outside.
Can't find the style of feature you are looking for or would like something truly unique? Water Garden can produce high quality features from stone, glass, steel and copper from your own inspirations and design. We have produced a number of bespoke water walls, water reservoirs and decorative rills to fit unusual dimensions which 'off the shelf' products can't provide a solution for.
If you are considering a bespoke Koi pond, swimming pond or a grand fountain display, take a look at our Construction & Installation page which details several examples and will help us match your desires and requirements to the required technology and a localised professional installer to complete the works for you. Our Pinterest Board also offer visual ideas to get your creative juices flowing.
If you have any questions or are interested in having something produced by ourselves please feel free to contact Jack or Andy via email or call on Portsmouth 02392 373735 and we will provide an over the phone consultation and discuss the various options available to you.