Aquarius Fountain Pump Sets
OASE Aquarius Fountain Sets combine innovative high-end water pumps, telescopic risers and fountain nozzles, providing everything required to produce an attractive pond fountain display. The Aquarius pump models 750 to 3500 are supplied with 3 different decorative nozzle patterns and are perfect for smaller ponds and water features. Aquarius Fountain Set Eco models 5500 to 9500 feature a single multi-tiered Vulkan nozzle for producing a larger water display. See below for comparison chart and performance data.
Aquarius Fountain Set - Display Figures with Supplied Nozzles



Aquarius Fountain Set - Pump Performance Curve Charts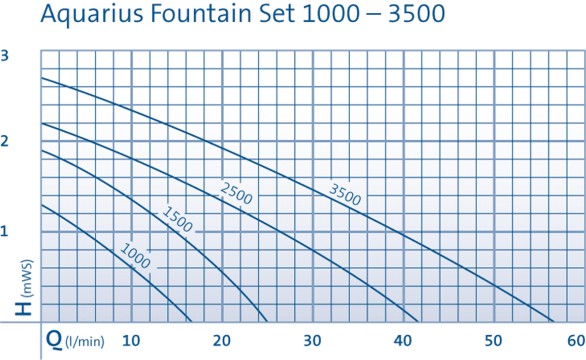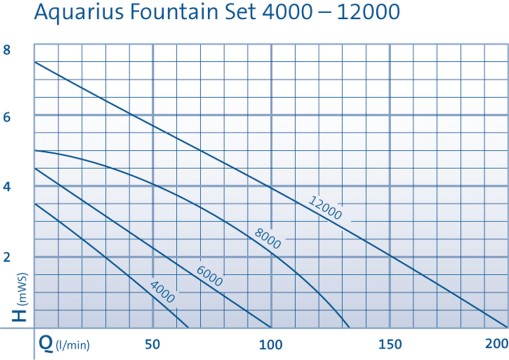 Aquarius Fountain Pump Sets from OASE
• Entry level Start models 1000 to 3500 are for smaller ponds and include 3 x 1/2" (12mm) thread diameter nozzle patterns (Lava, Vulkan and Magma).
• Larger Sets 4000 to 12000 (formerly named Nautilus) are for larger ponds and include a single 1" (25mm) thread diameter, three-tiered Vulkan nozzle which produces a larger display.
• All Aquarius Sets include an adjustable telescopic riser with a 15° swivel head for easy installation and a regulator for fountain height adjustment. These Kits also feature a valved secondary outlet to run a small watercourse or waterfall as well as the main feature.
• All sets are capable of manual flow control and the 4000 to 12000 models are also suitable for remote, hand held, electronic speed control by using an Oase InScenio FM Master 3.
• The unique OASE filter wing design on the larger Aquarius models 4000 to 12000 doubles the inlet strainer surface area if used in the wing formation. These wings can also be detached from the main body and relocated at the water's edge to provide an easy point of access for maintenance and flow control, connected to the main pump via a length of inlet suction hose (not supplied).
• A fountain will not only provide a decorative water display in your pond or garden water feature, they also help to introduce vital oxygen and water circulation. This in turn benefits fish and aquatic life and assists in maintaining water quality.