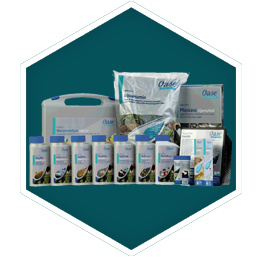 Water Quality
Maintaining your pond water quality is a crucial part of pond ownership. Water Garden supply a wide range of pond test kits for determining the parameters of the water and specific water treatments for adjusting these parameters where necessary. Green water can be reduced using OASE Ultraviolet Clarifiers which flocculate single celled algae. Pond Surface Skimmers will remove floating debris such as leaves and pollen before they sink and start to decay. Pond Pumps and Filters will help to reduce sediment and also clean the water on a continuous basis.
Aquatic Technology from OASE is the very best on the marketplace today, helping to keep the pond water quality in top condition.
Ultraviolet clarifiers will keep single celled algae (green water) at bay whilst pond surface skimmers prevent floating pond debris from sinking and decomposing on the pond floor.
Pond aerators will help to increase the amount of dissolved oxygen in the pond during warmer months, whilst the rising column of air bubbles also keep an area of the pond surface clear of ice allowing toxic gasses to escape.
Pond filters, ultraviolet clarifiers (UVCs) and pumps will mechanically and biologically achieve clear water. Water tests and treatment kits and Pondovac pond vacuum cleaners maintain a healthy pond eco system.