Water fountains are a popular choice in ponds but for those looking for something more spectacular, Water Garden Ltd have developed their exclusive Fountain Spray Bars. These stainless steel manifolds each allow up to 10 water jets to fire out either vertically or to create stunning parabolic water arches.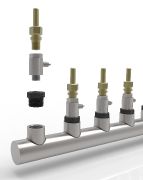 The water jets can be individually adjusted for both angle and water flow and multiple spray bars can be used together to provide longer lines of water jets.
Powerful submersible pumps can be coupled to the bars and we can now offer 'dancing' water displays which can be controlled via your smart phone or tablet. RGB lighting can also be coupled to the spray bars and smart controller to create stunning, dynamic water and light shows.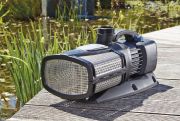 Ideally suited to rectangular ponds and pools, the spray bar is capable of delivering water arches of up to 3 metres in height with a 3 metre throw distance using dynamic 'dancing' pumps or greater heights can be achieved with our more powerful semi-commercial pumps. For long and narrow ponds, pools and water features, spray bars mounted at either end will create even more dramatic twin arch displays.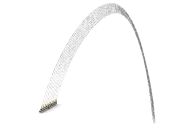 The 316 (marine grade) construction allows the use of the spray bars in mildly chlorinated conditions making these well suited to private or commercial installations.
So if you're looking for a water feature which is different to the usual fare, give Water Garden Ltd a call on Portsmouth 02392 373735 and we can supply you with technical details and a full list of items required to complete your project. We have installers positioned across the UK who can assist in the construction and installation too.
View our Fountain Spray Bars here.