Shopping on a mobile phone can be a real drag, as most websites are virtually impossible to navigate on a small screen and loading times can send you into a peaceful sleep...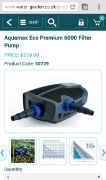 With this in mind, Water Garden have created a dedicated mobile website, tailored for browsing on the go. Packed full of useful features and our entire range of products, you can surf away - without drifting off.!
The new site contains helpful calculators for pond water volume, liner sizing and pond paint coverage. Technical information and product videos are also available at your fingertips.
Whether you are a landscaper or avid gardener, we're sure you will find the mobile website of interest. Visit us at water-garden.co.uk and let us know what you think!