Getting mains electrical power to remote locations can be a frustrating experience, whether it's working away on site, out on camping and glamping trips or during temporary shows and exhibitions. Running mains power cables to more permanent installations can also be costly and in many cases, simply unachievable. So, the usual place to turn is a portable generator.
So what's wrong with diesel/petrol generators?
Petrol and diesel generators are relatively cheap and freely available but, they are generally noisy, fuel guzzling and hardly environmentally friendly. Storage also needs consideration due to the potential fire risk and any fossil fuel generator must be used in a well ventilated area. In the longer term, you will also need to consider servicing in order to maintain the moving parts within the generator.
Clunky but clean…
Storing electrical energy in battery cells has developed massively over recent years. Lithium Ion batteries are now a safe, powerful and lighter weight alternative to their lead-acid predecessors. Pulling power from a battery usually meant connecting 12 Volt compatible equipment which is limiting. It is possible to connect a charge controller and inverter to a 12v battery which would then provide 230 volt electrical power but, this is a somewhat clunky mishmash of parts to lug around.
Clean, green power machines…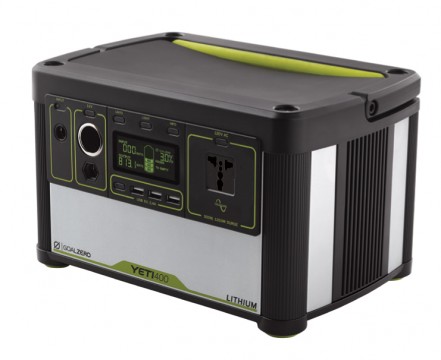 Water Garden now stock a range of cutting-edge Portable Power Stations which offer clean, fume-free, noise-free 230 volt and 12 volt electricity in a robust 'grab and go' package. The YETI Power Stations come in a range of sizes from the compact YETI 150 to the mighty YETI 3000 which can provide mains voltage to appliances up to a whopping 1500 Watts via its 3000Wh Lithium Ion power cell. The YETI 3000 is even equipped with Wi-Fi capability, allowing switching and information to be viewed via your smart phone or tablet! Booster Expansion Modules can be added to offer up to a staggering 7.8KWh of electrical storage.
The YETI is a real game-changer, offering the ability to provide power to pretty much any piece of mains electrical equipment, pretty much anywhere you fancy. In addition to mains electric, the Power Stations also feature a 12v cigarette lighter port and USB ports, opening up a realm of options for charging and powering devices and appliances.
Living & Working 'off-grid'…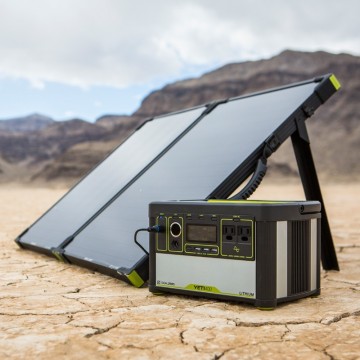 The YETI's power cell can be recharged by conventional mains power or your car battery if needed, but what really makes the Power Station special is its capability to connect to the range of Boulder Solar Panels. Suddenly, generating mains electricity off-grid is completely practical. Whilst the YETI is very much a portable power system, there is every practical reason to install this in a more permanent setting.
If you own a summerhouse, home office, shed or garden gym and you wish you had power to run that 65" Flat Screen TV, drinks fridge or running machine, then wish no more. With Solar Panels connected, you'll be harvesting all that energy for free and you won't need to dig up the garden or patio.
Pond & Lake Power…
Here at Water Garden HQ, we are often inundated with enquiries for fountains or lake aeration systems but very often there is no mains power available. Lakes are often positioned several hundred metres from the property so it can be impractical to lay cables. Golf Courses with water hazards often require aeration but you cannot tear up the 9th hole to run a cable in. A combination of a solar generator and highly efficient pumps and aerators now offer a retrospective option in almost any location which receives the sun.
Need help?
If you would like to discuss any of our portable power stations, solar generators or need a solution for providing electricity on the move, just give our friendly technical team a call.