Water Garden Ltd are once again the proud winner of the Otterbine Contractor of the Year award for a 2nd year running. Otterbine Barebo's UK representative, Simon Powell presented the award to Water Garden's Managing Director, Andy Staves, after achieving the highest sales in the UK during 2019 for their lake aeration systems and floating fountains.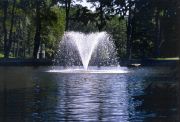 Andy remarked "Our aim is to offer a complete range of solutions for virtually any pond or lake whilst being as kind to the environment as possible. Our clients like what we do and the latest Otterbine award is testament to our ongoing efforts!"
Lakes are often neglected which can lead to algae bloom, duckweed and myriad other problems and quite frequently, owners are simply unaware that these issues can be managed by aeration. Our primary goal has always been to help the client understand the reasons for their specific problem and to find the most effective resolution, which in most cases is aeration. This is an environmentally friendly, cost-effective, long-term solution so it comes as no surprise that owners decide on this method to help keep things in check.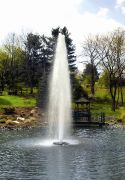 Decorative fountains are also hugely popular, whether it's a wedding backdrop in a stately home, privately owned lake or golf course water hazard. Fountains not only look stunning, but they also help to circulate and aerate the water, so these are a great choice.
For customers looking for a more tranquil option, we also offer sub-surface aeration which provides superb oxygenation but with next-to-no water surface disturbance.
For more details on our Lake Fountains and Lake Aeration Systems, feel free to visit our website at www.water-garden.co.uk, drop us an email or call one of our friendly experts on Portsmouth 02392 373735.