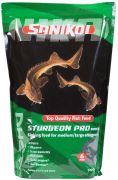 New SaniKoi Sturgeon Pro Green is an excellent high quality sinking pellet feed specifically formulated for Sturgeon species. Principally composed from fish meal ingredients with added fish oils, Sturgeon Pro Green is rich in protein and healthy fats to maintain optimum growth rates and conditioning for Sturgeon and Sterlet. The 6mm pellet size is ideal for staple, regular feeding medium to large fish and the dense, oil rich pellets sink quickly to the floor of the pond where Acipenser pond Sturgeon species prefer to feed. Sturgeon Pro Green 6mm pellets are available in pack sizes of 3000ml (2,1kg weight) in a reseal bag to preserve freshness and 10,000ml (7.0kg weight) as a larger bulk sack of feed.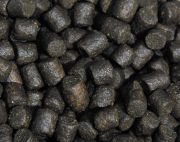 The primary ingredients include a fish meal majority of 50%, wheat, maize gluten, soya (dehulled, extracted and toasted), fish oils, animal fats, lucerne protein concentrate and spirulina for colour enhancement. With added vitamins and trace elements, Sturgeon Pro Green provides a healthy balanced diet for Sturgeon species and the finely balanced formulation consistent with all SaniKoi feed guarantees that that minimal excess waste nutrients are expelled, ensuring maximum conversion from the fish and water quality preservation too.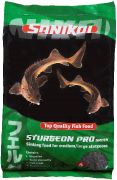 SaniKoi Sturgeon Pro Green is best fed little and often, with regular introduction of feed that will be consumed within 5 minutes. For best protein conversion and minimum nutrient wastage it is recommended that SaniKoi Sturgeon Pro Green is fed when the water temperature is at 10˚C and above. Added supplement SaniComplex aids digestion and general health and SaniBooster vitamin complex strengthens the immune system against infection.
Click to view SaniKoi premium Fish Foods