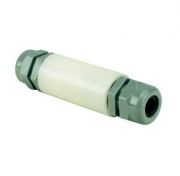 Electrical items such as decorative fountains or pond pumps can be tricky to repair if these fail, as it may be necessary to make an electrical joint underwater. Water Garden Ltd have a range of underwater cable connectors which can be used for this task. The OASE UKK 1K Underwater Cable Connector is IP68 rated and specifically designed for permanent submersion, allowing single electrical cables to be joined or repaired. The UKK1K can also be disconnected at a later date if required.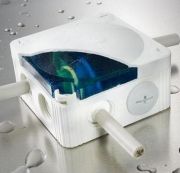 If multiple electrical connections are required, our innovative Underwater Junction Box Kit can be used. The Junction box kit includes a special resin Gel which is poured into the Junction Box creating an IP68 rated seal, allowing the box to be completely and permanently submersed in a pond, lake or water feature.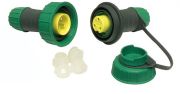 If you need to repair or join a garden cable outside of a pond or within the garden, we also have a selection of IP67 rated cable connectors and junction boxes which are fully weatherproof.
Water Garden also offer a range of Weatherproof Switch Boxes and externally mounted Garden Remote Controls, allowing a number of electrical devices to be connected and controlled outdoors. The OASE FM Master 3 can be used to adjust the water flow rate electronically on certain fountain and water feature pumps, all via a handheld remote control.