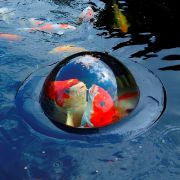 The brand new Fish Viewing Dome is a great accessory in any pond containing goldfish or Koi Carp. The dome can be filled with water which then allows the pond inhabitants to rise above the water level. The sphere can also be used to place food, encouraging the fish to enter safely and feed whilst you watch.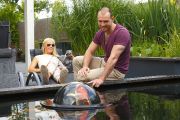 The 50cm diameter bubble will also magnify the fish as they enter, allowing you to view in much greater detail and help identify any potential health issues.
You can view Water Garden's Fish Viewing Dome in more detail by clicking here.