Aquarius Fountain Pump Sets
OASE Aquarius Fountain Pump Sets combine innovative high-end water pumps, telescopic risers and fountain nozzles, providing everything required to produce an attractive pond fountain display or for use in an underground reservoir to create a pondless fountain. The Aquarius pump models 750 to 3500 are supplied with 3 different decorative nozzle patterns and are perfect for smaller ponds and water features. Aquarius Fountain Set Eco models 5500 to 9500 feature a single multi-tiered Vulkan nozzle for producing a larger water display. See below for comparison chart and performance data.
Aquarius Fountain Pump Sets - Display Figures with Supplied Nozzles


Aquarius Fountain Pump Sets - Performance Curve Charts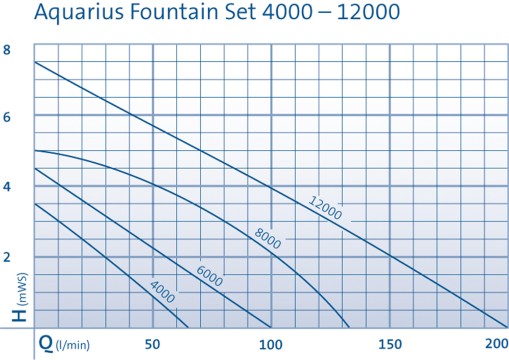 Aquarius Fountain Pump Sets from OASE
Entry level Aquarius models 750 to 3500 are perfect for smaller ponds and include 3 x 1/2" BSP thread diameter nozzle patterns (Lava, Vulkan and Magma).
The larger Aquarius Eco Fountain Pump 5500, 7500 and 9500 models are ideal for larger ponds and include a 1" BSP thread diameter, three-tiered Vulkan Nozzle and the 1" BSP Lava Water Bell Nozzle.
The Larger ECO Fountain pumps use cutting edge motor technology from OASE Germany which offer significant energy savings over other brands of fountain technology.
All Aquarius Fountain Pump Sets include an adjustable telescopic riser with a 15° swivel head for easy installation and a regulator for fountain height adjustment. These Kits also feature a valved secondary outlet to run a small watercourse or waterfall as well as the main feature.
A fountain will not only provide a decorative water display in your pond or garden water feature, they also help to introduce vital oxygen and water circulation. This in turn benefits fish and aquatic life and assists in maintaining water quality.