The Dancing Fountain Pump is very simple to install and only requires connection to a 230 Volt, single phase electrical supply (20 metres of cable supplied, pre-wired to pump). The dancing sequence is pre-programmed and installed into the pump housing itself, so there is no need for complex DMX programming and the fountain can be installed as easily as a standard garden pond pump.
The dancing program will slowly cycle through a 5 minute series of effects, which is then automatically repeated. The pump is also fitted with a slider switch, allowing you to operate the pump in Dancing Mode or Static Mode (full fountain at all times).
The special Eco motor is incredibly energy efficient, consuming only 190 watts. This power consumption is further reduced when in Dynamic Mode.
The maximum display height can be easily adjusted and set using the built-in mechanical flow regulator (fitted to the inlet of the fountain pump), making this ideal for virtually any size or shape of pond. The pump can also be mounted in an Underground Water Reservoir, allowing a pondless fountain to be created in a garden or landscaped area, without the need for open water.
The Dancing Fountain Pump should ideally be used in clear, debris free water to reduce detritus from blocking the smaller holes in the Multi-Jet Nozzle options. If silt or debris is present, we suggest raising the pump off the base of the pond to pull cleaner water nearer the surface, or install a suitable Pond Filter System.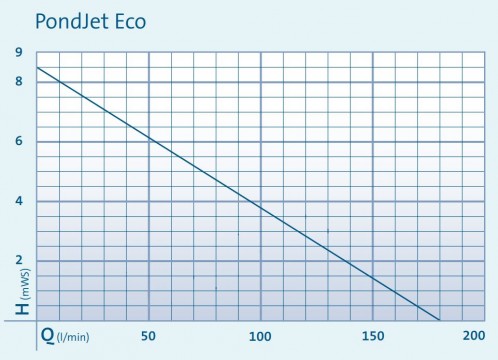 Recently viewed products...