Technical Details for 5-in-1 Aerator Fountain & Mixer System.
5-in-1 Aerator Fountain: Nozzle Performance Data.
½ HP 50Hz

Gemini

High Volume

Phoenix

Rocket

Mixer

Spray Height (m)

1.2m

1m

Upper: 2.8m

Lower : 1m

3m

n/a

Spray Diameter (m)

1.8m

1.4m

Upper: 0.3m

Lower: 3m

0.4m

n/a

Flow L/Hour

115,000

99,000

44,000

41,000

n/a*

Oxygen Transfer (kg/HP/hr)

1.0

0.91

0.36

0.36

n/a

Volt/Ph/Amp 2750 RPM @ 50hz

230/1/2.8

230/1/2.8

230/1/2.6

230/1/2.6

230/1/2.6
*1/2HP Mixer volume influenced is 6938m3 and effectively moves water 35 linear meters.
5-in-1 Aerator Fountain: Technical Dimensions.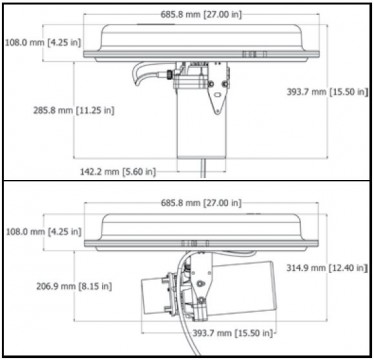 5-in-1 Aerator Fountain: Mooring Suggestions.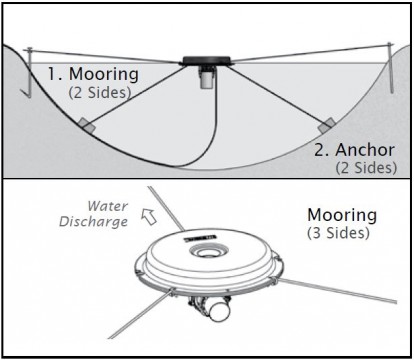 Mooring of the Aerator can be easily achieved using heavy duty fishing wire and suitable ballast such as concrete slabs (not supplied).
When setting up in horizontal mixer configuration, 3 mooring tie points should be used to prevent the unit from moving across the pond or lake water surface.
5-in-1 Aerator Fountain: Product Components.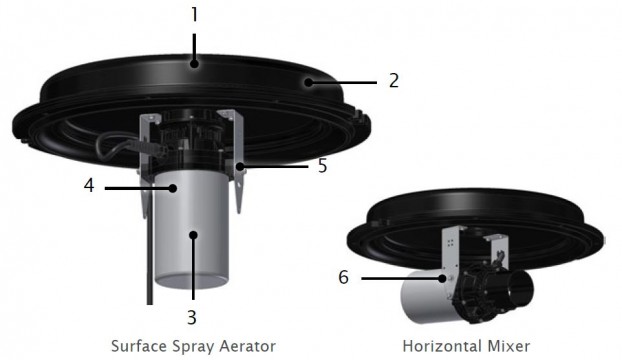 1. Complete set includes corrosion resistant adjustable spray impellers to produce 4 different spray patterns and a horizontal mixer.
2. Rugged, low visibility foam filled polyethylene float with recessed light pockets (2 x 20w Submersible Halogen Spotlights and Underwater Transformer supplied with Aerator with Light Set version).
3. Oil cooled, efficient 2750 RPM custom built motor incorporates a silicon carbide single seal to ensure dependability and long service life.
4. Corrosion resistant, durable 18 gauge / 316 grade Stainless Steel motor housing.
5. Stainless Steel brackets allow for easy conversion between aerating fountain patterns and mixer model.
6. Adjustable discharge angle of +/- 8 degrees in horizontal mixer configuration.
Related tech articles and downloads
Recently viewed products...