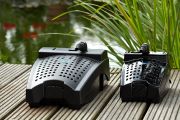 Are you having problems keeping your pond water clean? Is the water murky or a green 'pea-soup' appearance? If so, it's a good idea to invest in a water filter system.
If the pond is already established, it can be difficult to install a pump and filter without ruining the look and you may not have the space to mount a conventional 'box filter' beside the pond.
Water Garden can offer a very neat and cost-effective solution to this problem...
The OASE Filtral Pond Filters offer an all-in-one cleaning solution. The filter is simply submersed into the pond and connected to an electrical supply. There are no hoses or external filters to connect up, making these ideal for ponds which are already constructed.
The Filtral contains a built-in water pump, filter media and Ultraviolet Clarifier to help tackle green or dirty water.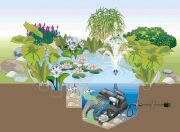 There are 3 models available and are an ideal solution for ornamental ponds from 3000 Litres (660 Gals) up to 9000 Litres (2000 Gals).
The Filtral can also be used in fish-stocked ponds from 1500-4500 Litres.
For larger ponds, 2 or more Filtral Filters can be used to great effect.

Water Garden also offer a Fountain Nozzle Kit for the Filtral, converting the cleaned water outlet into a decorative fountain. A small stream can also be powered using a length of flexible hose on the clean water outlet.
You can view the full range of Filtral Pond Filters and accessories here.
We also have a useful Filtral Video here.
If you'd like to discuss your pond with one of our in-house experts, feel free to call us on Portsmouth 02392 373735 – we're happy to help.