Winter can be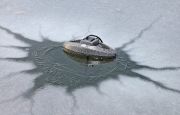 the most testing season for your pond and its aquatic inhabitants and the temperature drops and the 'big freeze' takes hold. Be prepared for the cold conditions and manage your pond well to provide a more tolerable cold water habitat and a quick recovery come Spring.
Preventing surface ice, feeding correctly, dead plant removal and filter care are all things that need consideration at this time of year.
Water Garden can assist by advising on good Winter pond management practices, please view our useful Winter Pond Maintenance article for some useful advice on Winter pond care.
View our Winter Pond Care article here.