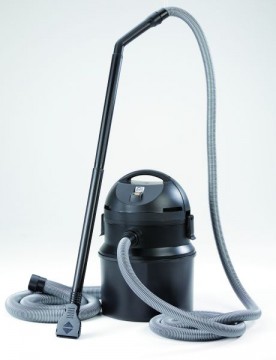 The OASE Pontec PondoMatic is a timer controlled pond vacuum cleaner for cleaning ponds, swimming pools and water features. This economically priced pond vac features a 1400 watt suction motor for effective cleaning of pond and pool floors.
The Pontec PondoMatic operates on a timer, continual suction for 20 seconds / empty for 20 seconds and holds up to 30 litres of water in the collection tank.
The unit is compact in design, easy to move around, features a top handle and manual on/off switch. The Pondomatic comes with 3 different cleaning nozzles to cover all aspects of pond cleaning, these include a dedicated algae nozzle, special crevice access tool and a flat adjustable debris nozzle.
The Pontec Pondomatic is also supplied with 4 metres of suction hose, rigid hand-held suction pipes and a 2 metre outlet pipe. The motor head is wired with 4 metres of main power cable and plug.
Water Garden also supply a discharge sludge bag free with the purchase of the Pontec Pondomatic Pond Vacuum Cleaner.
This excellent, economical pond vacuum cleaner is guaranteed for 2 years.
Click the images for more details and pricing.