Brand new addition to the OASE LED lighting range for 2014.
Water Garden are pleased to announce the long-awaited arrival of the new for 2014, OASE LunAqua 3 LED range of spotlight sets, now in stock!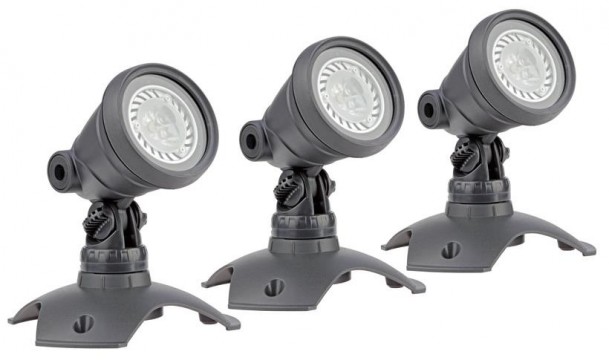 The new LunAqua 3 LED is a compact spotlight featuring 3 warm white Power LEDs for 110 lumen bright, warm illumination above or below water. These lighting sets use only 3 watts per spotlight and are ideal for strategic positional illumination of garden features such as hedgerows, submerged lighting in garden ponds and pond fountains or focussed spotlighting of independent water features.
The LunAqua 3 LED lights are available in single spotlight sets, or sets of 3 spotlights all powered from the same transformer. Each spotlight is supplied with 5 metres of pre-wired cable to allow for wide spacing between lighting areas.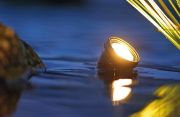 The Power LED spotlights are mounted on adjustable brackets which allow the spotlight angle to be adjusted and the beam of light aimed at the intended illumination target. Each light is supplied with a weighted base for free-stand installation and a robust ground spike for staking into soft ground. The special base connection fitting also allows the spotlight to be fitted directly to the OASE Aquarius Fountain Sets 4000, 6000, 8000 and 12000, positioned optimally for illuminating the fountain jet.
For more information, pricing and to purchase, please follow the links below to view:
OASE LunAqua 3 LED Spotlight Set 1
OASE LunAqua 3 LED Spotlight Set 3
For more information, please call Water Garden on 02392 373735, email us, or visit our Portsmouth showroom.