OASE have developed the cost effective BioSmart 18000 Filter for pond keepers.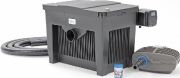 The BioSmart 18000 is also available from Water Garden Ltd as a packaged set (BioSmart 18000 Set) which includes the energy efficient Aquamax ECO Classic 5500 filter pump and the new Vitronic 18 watt Ultraviolet Clarifier.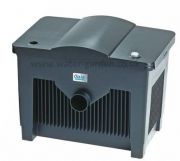 Suitable for ornamental ponds of up to 18,000 Litres (4,000 Gallons), this compact gravity flow through filter kit exceeds expectations with regards to maintaining pond water quality and includes the OASE 'Clear Water Guarantee' for added piece of mind.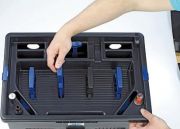 The newly developed Filter is incredibly easy to clean and maintain, without the need to remove the filter sponges. The technology is based on the market-leading BioSmart 30000 pond filter with many of the same benefits and functions (pollution indicator, water temperature gauge, easy clean technology) but at a much lower purchase cost.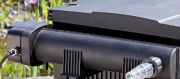 The new Vitronic 18w UV Clarifier has been redesigned to fit directly on to the rear of the BioSmart filter box, whilst the ultra-efficient Aquamax ECO Classic pump keep running costs down to a bare minimum.
For more technical details and prices, please click on the web links below.
BioSmart 18000 Filter Set (includes Filter, Pump & UVC)
If you have any technical questions regarding any of our Oase filter systems, please feel free to email or call us on Portsmouth 02392 373735 - we'd be delighted to help.