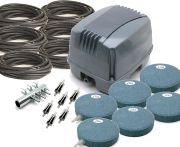 The new AP Series Pond Aerator Kits include a powerful yet whisper quiet outdoor air pump, high performance air stones, air hoses, 6 Way air divider and non-return check valves.
The 4 models range from 3,600 Litres/Hour up to 7,200 Litres/Hour air flow rates. Capable of operating at greater water depths, these Aerators are well suited to Koi ponds and heavily stocked fish ponds.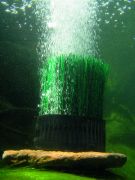 The AP Series Aeration Kits can also be used in conjunction with the innovative OASE Oxytex 1000 CWS to increase pond water circulation, oxygenation and biological filtration. The Oxytex Aerator units can also be used to boost an existing pond filter's biological capacity by up to 25%. Up to 6 Oxytex 1000 CWS units can be connected to the AP7200 Air Pump Kit.
View our full range of Pond Aerators & Air Pumps here.