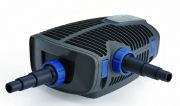 Water Garden Ltd are pleased to announce the launch of the new OASE Aquamax ECO Premium 20000 Pump.
The pump has been designed to supply considerable water flow rates of up to 19,500 litres per hour, making this ideal for more demanding water features, streams, cascades and pond filter systems.
As with all Aquamax ECO pumps, the energy efficient motor technology consumes the minimum amount of power (a meagre 180 watts in the case of the 20000 model, when operating a full flow).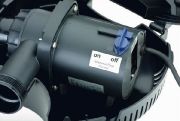 The Seasonal Flow Control (SFC) toggle switch will reduce power even further, via the intelligent microprocessor which measures the water temperature and reduces flow (and power consumption) as the water temperature reduces. This is particularly useful when providing water to a pond filter, as the flow requirements are lessened during the winter (saving you money on your electric bill).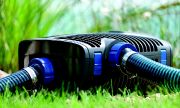 The 20000 model is capable of moving solid particles such as fish waste of up to 11mm diameter, making this the class-leading pump for supplying debris to a fish or koi pond filter. The secondary inlet can also be used to connect a second point of suction in the pond, such as a satellite strainer or pond surface skimmer.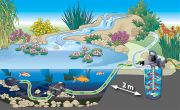 The pump can be directly submersed in a pond or water reservoir but can also be fitted in a dry mounted state (flooded suction) if desired. The Aquamax ECO 20000 is supplied with a 5 Year Guarantee for added piece of mind.
Click here for more technical details on this innovative OASE pond pump.