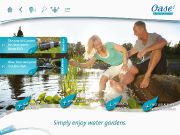 OASE Living Water GmbH have recently launched a useful App for iPad and tablet devices, containing a variety of useful tools when planning a pond or water feature on the move. The mobile app is ideal for landscapers, installers, garden designers and private individuals alike.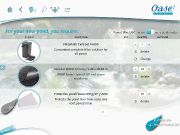 The App can be used off-line without the need for WiFi or a phone signal and contains useful details on individual pond and water gardening product. The application also includes a Pond Planner, helping you to determine the pond volume and relevant products such as filtration systems, skimmers and aerators to suit the proposed pond and fish stocking density.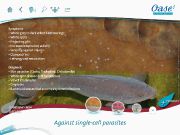 Other features such as a fish disease diagnosis tool and water treatment suggester may prove useful whilst inspecting the pond fish on-site. Parasites, worm infections, fungal and bacterial infections are listed with symptoms and diagnosis.
The Oase App is available on iTunes and Google Play stores and is free to download at your leisure.
To convert the language from German to English, click on the 'My Menu' tab at the bottom left of the app. Select 'Settings' and change the Country Selection to 'UK' and the Language Selection to 'Englisch'. The App should continue in English Language from then on.
As one of the leading stockists of OASE equipment in the UK, the team at Water Garden Ltd can further assist you with selecting and supplying the correct components for your water gardening project, whether you need guidance on a pond pump, filter system, dancing water feature or pond lighting. Feel free to contact us via our website's live chat facility (bottom right of the website at www.water-garden.co.uk) or call our friendly experts on Portsmouth 02392 373735.