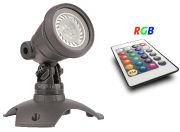 The brand new Lunaqua 3 RGB Spotlights feature colour changing or fixed colour options for illuminating ponds, water features or garden landscapes.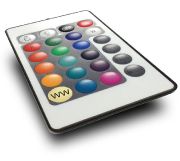 The spot light sets come complete with remote controller and the colour can be adjusted separately on each individual light. The remote handset features 16 individual fixed colours but also offers colour phasing, colour pulsing and a 3 step dimming function.
These high quality colour changing lights are exclusive to water-garden.co.uk and feature a robust IP68 fully submersible spotlight housing which can be used permanently underwater. Each light comes complete with a weighted base and ground spike for practical mounting onto a pond floor or used on soft ground for illuminating planting, shrubbery or garden features and perimeters.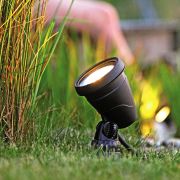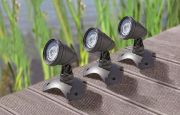 Water Garden offer the OASE Lunaqua RGB Spotlights as a packaged set of 1, 2 or 3 but also supply these as a 'Plug & Play' lighting solution, which allows any number of spotlights to be added to a single mains transformer. Each light is supplied with 5 metres of low voltage (12V) cable and a screw terminal.
Our range of low voltage cable connectors and Plug & Play accessories can be used to extend or split the 12v cables, allowing additional spotlights to be easily added to the lighting circuit as and when required.
View the Lunaqua 3 RGB Spotlight Sets.
View the Plug & Play Lunaqua 3 RGB Spotlight versions.