Pond Pumps Selection Guide
A brief introduction to Water Garden Ltd's extensive range of pumps.
OASE AquaMax Range
Ideal for: Pond Filter Systems | Streams | Water Cascades
OASE have designed a wide range of solids handling pumps dedicated to efficiently supplying water to filters systems on a fish pond or koi pond. The AquaMax range features the market-leading energy-efficient AquaMax Eco Classic, AquaMax Eco Premium & AquaMax Eco Twin which are ideal for continuous year-round operation. Filter systems fitted with bottom drains can benefit from the ultra efficient Aquamax Gravity Eco. If the pump needs to be mounted outside of the pond, the Aquamax Dry are ideal for the task, especially on a Koi pond or fish pond. For larger ponds or cascades which require substantial flow rates, the powerful Aquamax Expert are well suited.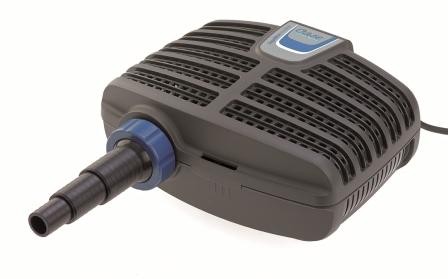 The OASE AquaMax Eco Classic are a range of high quality, economically priced, entry level pond filter pumps from OASE. These are ideal for supplying flow to pond filters, waterfalls, cascades and streams. The OASE AquaMax Eco Classic feature 'eco' motors which consume little energy for the performance they offer. These are perfectly suitable for both submerged or gravity supply, dry mounted installation. The AquaMax Eco Classic is a great, reliable, budget friendly filter pump choice.
* Range consists of 7 different models.
* Maximum flow rates ranging from 2,400 to 17,400 litres per hour.
* Maximum vertical lift ranging from 2 to 3.7 metres.
* Power consumption ranging from 40 to 170 watts.
* Guarantees ranging from 3 to 5 years.
The OASE AquaMax Eco Premium are a super-reliable range of high-end pond filter pump with a large surface area and highly efficient 'eco' motors which consume very little power whilst delivering very high performance. The OASE AquaMax Eco Premium feature a special second point of inlet which allows the suction flow to be divided and regulated between the main pump and a separate suction unit, such as another strainer or surface skimmer situated within close proximity. Larger models also feature intelligent seasonal flow control which automatically reduces pump speed in colder temperatures. These superb filter pumps can be submerged or dry installed below water level and are ideal for supplying pond filters or watercourses.
* Range consists of 7 models.
* Maximum flow rates ranging from 4,000 to 19,500 litres per hour.
* Maximum vertical lift ranging from 3.2 to 5.4 metres.
* Power consumption ranging from 40 to 180 watts.
* All guaranteed for 5 years.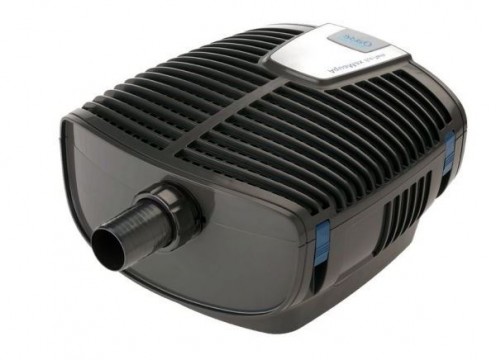 The OASE AquaMax ECO Twin are large, high-flow filter pumps ideal for supplying larger pond filters and wider streams and waterfalls which require a high flow rate at a relatively low vertical lift. These feature 'eco' motors which delivery high flow rates for reasonably low running costs. The design consists of dual internal pumps channelled into a single large outlet, hence the name AquaMax ECO Twin. These high-end filtration pumps are supplied with a receiver and remote control which enables the user to switch the pumps on and off as well as regulating the speed of the motors and resultant flow rate. The AquaMax ECO Twin also feature a secondary inlet which allows the use of a second suction element such as a pond skimmer or satellite strainer.
* Range consists of 2 models.
* Maximum flow rates ranging from 20,000 to 27,000 litres per hour.
* Maximum vertical lift ranging from 4.5 to 5.2 metres.
* Power consumption ranging from 198 to 320 watts.
* Both ECO Twin models guaranteed for 5 years.
The OASE AquaMax Expert are a range of powerful, robust, heavy duty pond filter pumps which deliver high flow and are capable of good vertical lift, ideal for situations where a high rate flow is required to large pond filter, an elevated filter or a higher stream or waterfall. These well-built pumps feature a large stainless steel strainer casing and can tolerate extremely cold temperatures with patented frost protection technology allowing pump operation in temperatures down to -20ᵒc. These high quality, commercial grade filtration pumps can be installed underwater or on dry land below water level.
* Range consists of 3 models.
* Maximum flow rates ranging from 20,000 to 41,000 litres per hour.
* Maximum vertical lift ranging from 8 to 10 metres.
* Power consumption ranging from 450 to 1100 watts.
* All 3 AquaMax Experts are guaranteed for 5 years.
The Oase AquaMax Gravity ECO pumps are ideally suited to filtration applications where a good flow rate is required at little to no vertical lift. This low energy filter pump lends itself perfectly to filtration systems that operate in a gravity inlet, pump outlet scenario where the pump is generally mounted below water level on a closed loop circulation with no vertical lift requirement. The low vertical lift combined with 'eco' motors and high flow impellers enable these to deliver high flow rates with exceptionally low power consumption, making the OASE AquaMax Gravity ECO pumps perfect for this type of ground level pond filtration.
* Range consists of 3 models.
* Maximum flow rates ranging from 10,000 to 18,000 litres per hour.
* Maximum vertical lift ranging from 1.3 to 2.2 metres.
* Power consumption ranging from 65 to 120 watts.
* All 3 Gravity ECO models carry guarantees for 5 years.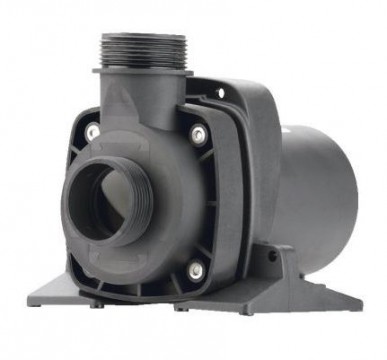 The OASE AquaMax Dry are a range of robust filter pumps designed to be installed in dry mounted scenarios, below water level and supplied under gravity for flooded suction operation. These filter pumps are ideal for applications where the filter, water feature or circulation pump must be installed outside of the pond. The OASE AquaMax Dry pump is mounted on solid feet for stable operation and can also be fixed to a hard surface. These versatile filter pumps deliver good flow rates with flow optimised impellers, can pass particles up to 8mm and can achieve moderate vertical lift making this range perfectly suitable for supplying pond filters, streams and water falls in dry mounted pumping situations.
* Range consists of 4 models.
* Maximum flow rates ranging from 6,000 to 15,100 litres per hour.
* Maximum vertical lift ranging from 2.2 to 5.2 metres.
* Power consumption ranging from 75 to 260 watts.
* All AquaMax Dry pump models guaranteed for 5 years.
OASE Aquarius Universal Range
Ideal for: Water Features | Streams | Water Blades
OASE Aquarius Universal are specifically designed for Water Features. The compact footprint and can be used in shallow water areas. From the tiny, palm-sized Aquarius Universal 440 to the powerful Aquarius Universal 40000, these single phase 230 Volt pumps can also deliver water to streams and to our cascading Water Blades. The larger Aquarius Universal 21000, 27000 & 40000 are also ideal for creating large ornamental fountain displays when combined with our Fountain Nozzles or Fountain Spray Rings.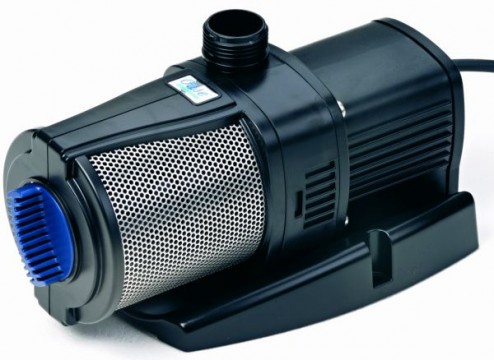 The OASE Aquarius Universal is a quality, multi-purpose range of pumps designed for clean water pumping. Perfect for supplying water features, fountains, streams and cascades such as water falls or water blade features. The OASE Aquarius Universals are compact in build and can be submerged or dry installed below water level. The range is wide and consists of pumps catering for very small water features up to very large, high volume fountains. All models feature thermal protection, many feature inbuilt flow regulators and models 3000 and 4000 are special 'eco' pumps with extremely energy efficient motors.
* Range consists of 14 models.
* Maximum flow rates ranging from 440 to 40,000 litres per hour.
* Maximum vertical lift ranging from 0.75 to 11 metres.
* Power consumption ranging from 5 to 1000 watts.
* Guarantees ranging from 3 to 5 years.
OASE Aquarius Fountain Set Range
Ideal for: Decorative Fountain Displays
Specifically designed for creating decorative fountain displays, the OASE Aquarius Fountain Sets feature large spongeless strainers to minimise debris passing up and blocking the fountain nozzle (which is a very common occurrence on pumps fitted with filter sponges). A fountain will also help to add vital oxygen and circulate the water which is important in a Koi pond or fish pond, particularly in the warmer summer months.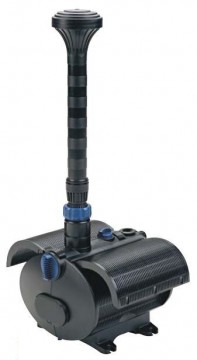 The OASE Aquarius Fountain Sets are complete pond fountain kits supplied with clean water fountain pump, telescopic nozzle extension pieces and fountain nozzles. All Aquarius Fountain Sets allow for manual flow adjustment so the fountain display height and spread can be reduced or increased as required. Smaller models in the range come supplied with 3 different fountain nozzles which produce different patterns. Larger models are supplied with a single multi-tier, multi-jet fountain nozzle producing a larger fountain display. Larger Aquarius Fountain Sets also feature special removable wings which allow the suction strainer to be relocated to the side of the pond for easy maintenance and cleaning.
* Range consists of 8 different fountain sets.
* Maximum fountain heights ranging from 0.8 to 4.5 metres
* Maximum spray area diameters ranging from 0.7 to 2.5 metres
* Power consumption ranging from 11 to 260 watts.
* Guarantees ranging from 3 to 5 years.
Ideal for: Cascading Water Blades | Streams | Water Courses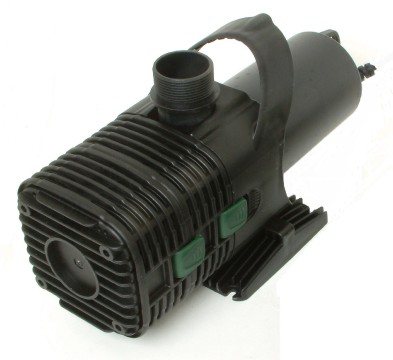 Cost-effective alternatives to the high performance OASE ranges, the T-Type & ST-Type pumps are well-built multi-purpose pumps that can be used to provide water to pond filters, decorative streams, water courses and Cascading Water Blades and can also be connected to our range of Fountain Nozzles. Water Garden supply a wide range of budget pumps to suit a variety of different scenarios from small indoor water features to larger streams and water cascades that demand more flow. These are a good alternative to the higher-end equipment if cost is a major concern.
* Maximum flow rates ranging from 450 to 25,000 litres per hour.
* Maximum vertical lift ranging from 0.65 to 9.5 metres.
* Power consumption ranging from 5 to 620 watts.
* Guarantees ranging from 1 to 2 years.
Ideal for: Deep or Silted Ponds & Lakes | Fountain Displays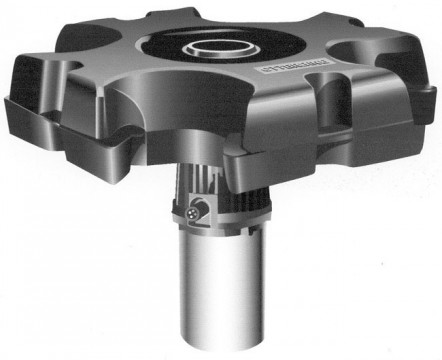 Decorative Floating Fountains are perfect for creating water displays in ponds or lakes where the water depth would otherwise be too deep or too difficult to install a static submersed pump. If the pond is clay lined or has a silt layer, floating fountains can be easily installed. Floating Fountains are well suited to lakes which suffer water level fluctuations as the float will automatically adjust with the water level changes. From small solar powered fountains to larger commercial floating displays and powerful floating Lake Aerators. Fountain display heights for 0.35m to 16.5 metres.
Ideal for: Fountains | Small Streams
If getting power near to the pond is difficult, Solar Powered Pumps are an excellent means of providing a decorative fountain or stream without mains electricity. The smaller versions come complete with solar panel, making these ideal for small garden ponds or water features. The OASE Aquarius Solar 700 & 1500 pumps require connection to a separate Solar Panel and can be used to provide more substantial fountain displays or for powering a small cascade or stream. Flow rates up to 6000 Litres/Hour. OASE Guarantees up to 5 years.
As with mains powered versions, solar fountains will aid circulation and aerate the water which is important in a fish pond or Koi pond. Solar fountains operate effectively year round, irrespective of the outdoor temperature, as long as there is sufficient sunlight.
Ideal for: Garden Irrigation | Allotments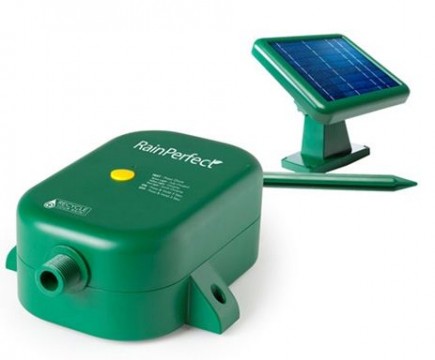 Watering your garden using a water butt can be a laborious process in filling watering cans and traipsing backwards and forwards to refill each time. Water Garden now offer the innovative RainPerfect solar powered garden irrigation system, which allows you to irrigate your garden via a standard garden hose. The RainPerfect is easy to install in the water tank and will pressurise the water in the hosepipe for use with a sprinkler nozzle attachment. The supplied solar panel will recharge the batteries, ready for use and as when required. The RainPerfect can pump up to 370 litres (80 Gals) on a single charge so is very practical for use on allotments and general garden irrigation. The RainPerfect can be found in our Solar Pumps category.
Ideal for: Emergency Pumping | Flood Relief | Pond & Lake Drainage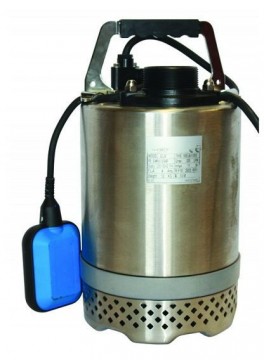 Robust, high quality Submersible Drainage Pumps are well suited for evacuating water in situations such as flood relief, emergency drainage, water table reduction and drainage of lakes or ponds. Contractor Pumps are designed for more arduous tasks such as extracting grit and sand and are capable of continuous operation. Many of the drainage range feature an Float Switch for automatic on/off control of the water level, which makes these ideal for cellars or basements. Flow rates up to 57,600 Litres/Hour.
Ideal for: Aquariums | Small Boats | Pond & Water Feature Drainage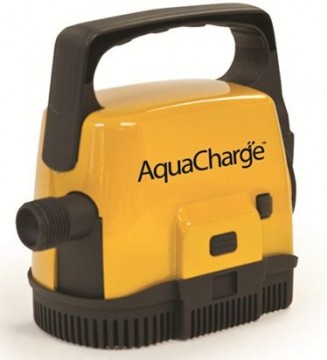 The AquaCharge is a battery powered, portable water pump capable of pumping up to 750 litres (166 Gals) of fresh or salt water on a single charge. The AquaCharge is ideal for evacuating water from aquariums, ponds, water features, boats, blocked sinks, baths etc. Supplied with hose and charging station, the AquaCharge is an incredibly useful tool to have around the home or garden. The AquaCharge can be found in our Drainage Pumps category.
Ideal for: Swimming Pools | Swim Ponds | High Watercourses
Suitable for dry-mounting above water level, the Pentair UltraFlow Plus Self Priming Pumps are suited to swimming pool filtration systems but can also be used on swimming ponds or powering larger watercourses and cascades at heads up to 23 metres. Suction lift makes the Pentair UltraFlow Plus ideal for use on ponds where it is not possible to submerse or dry mount a pump below water level. Compact and quiet, the Pentair UltraFlow Plus are also fitted with a large removable strainer basket and inspection window.
* Pentair UltraFlow Plus range consists of 5 models.
* Maximum flow rates ranging from 15,000 to 30,000 litres per hour.
* Maximum vertical lift ranging from 17.5 to 23 metres.
* Power consumption ranging from 0.55 to 2.2 kilowatts.
* All Guaranteed for 3 years.
Why are there so many pump choices?
A. Most pumps are specifically designed to perform a certain task. For example, a filter pump is designed to move solid waste to a pond filter, so this type of pond pump has large holes in the outer casing to allow the particles to pass through. A filter pump is therefore no good for using as a fountain, as any large particles would end up blocking the fountain nozzle attachment.
In the same way, fountain pumps shouldn't be connected to a pond filter, as the muck on the pond floor will simply get trapped around the fountain pump casing (which has much smaller holes on the strainer casing), rather than passing up to the pond filter - we receive a number of calls from people with clean filters, but dirty ponds - the wrong pump is usually the reason why!
Fountain displays - which pump and what do I need?
Step 1. Measure the pond or the water reservoir length, width and depth. A fountain shouldn't go higher than half the narrowest point (for example, if your pond measures 5m x 3m, the fountain display shouldn't go any higher than 1.5 metres (half of 3m). The reason is to prevent water splashing outside of the pond on a reasonably windy day, if left unattended.
Step 2. Decide on the type of fountain display pattern. You can view a wide variety of Fountain Nozzles here.
Step 3. Click on the Fountain Nozzle picture and you will notice that we have already calculated the right fountain pump to suit the required display height. Simply click on the fountain pumps listed to the right of the nozzle picture, for more details and pricing of the fountain pump in question.
Do you offer cheaper alternatives to the OASE Fountain pumps?
We do offer a cost effective range of pumps which can be used with our fountain nozzles. These can be viewed on the Watercourse and Cascade Pumps page. We tend to offer OASE pump equipment wherever possible, as this is the very best brand on the market, carrying long guarantees and offer the most reliable, consistant performance.
Pond Filtration - which pump do I need?
Filter Pumps, also referred to as 'Solids-handling' pumps, are purpose-build to force muck and debris from the pond, up to the filter. Debris is allowed to pass through the shell of the pump and the rotating impeller then forces this to the filter.
1. First, measure the pond Length, Width and Depth in metres. For this example, let's assume the pond measures L5m x W3m x D1m.
2. Convert the pond size into water volume by using the following calculation:
Length (in Metres) x Width (in Metres) x Depth (in Metres) x 1000 = Water Volume (in Litres).
In this example, the pond volume is: 5m x 3m x 1m x 1000 = 15,000 Litres. If you prefer to work in Gallons, divide the Litres by 4.5 (i.e. 15000/4.5 = 3,333 Gallons).
3. As a rough guide, you should aim to circulate the entire pond volume once every 2 hours. This really depends on the type of pond filter used and also if the pond is purely ornamental or being used to stock fish or Koi Carp. In our pond example, the pump will therefore need to turn over around 7500 Litres of pond water per hour.
4. If you have already purchased a pond filter, then the manufacturer may state the maximum flow rate that the filter can handle. If this is the case, then it is important not to exceed this flow rate stated, as it may cause the filter box to flood over.
5. If you also need a filter, we recommend viewing our Pressurised and Gravity Pond Filters. Our Filter 'Sets' include the water pump, filter box and UV Clarifier. We have already calculated which filter kit is required for specific pond sizes and we also account for fish stocking levels, so hopefully this will help in selecting the right choice of pump and filter for your pond.
6. Pump hose selection. Always try to use the largest diameter flexible hose to connect between the pond pump and filter. This is very important as when water is forced through a hose or pipe, it will generate friction. This friction, or resistance to water flow, will reduce the amount of water finally exiting the hose. The smaller the hose diameter and the greater the flow rate, the more friction created. This is a very important consideration and is often overlooked by many suppliers or is simply not understood.
Again, we receive numerous enquiries from people who have been poorly informed of correct hose selection, leading to wildly overspecified pumps (meaning high running costs) or poor pond pump and filter performance, simply because of the hose being too small for the task. For more details on calculating friction loss, please see the next section below.
We also strongly recommend using good quality pond hose. Most suppliers sell 'Aquatic Hose' which ironically isn't particularly suited to pond use! Although this is cheap, the external diameter is ribbed, as is the internal diameter. This creates unnecessary water turbulence in the hose which will affect the final output flow. Also, this has a very thin wall section which is liable to crack or leak, which can drain a pond dry if leaking outside of the pond. We only stock high quality, Smooth Bore Flexible Hose - it's really not worth saving a little money initially, to find frustrating problems with leaks later on.
Confused? Call or email us and we'll do our best to help!
Waterfalls, Streams, Cascades and Watercourses - which pond pump do I need?
The calculations used for pump flow rates on Streams (Watercourses) and Cascades (waterfalls) are virtually the same.
1. Firstly, measure the width of the stream at its widest point (i.e. how wide the water channel will be). For this example, let's assume this is 0.6 metres wide.
2. Measure how high the top of the stream is, above the pond or reservoir water surface level (not the bottom of the pond). Let's assume this is 1.5 metres.
3. Next, measure how long the flexible hose will be, from the submersed pump to where the water will exit at the top of the stream (the 'point of discharge'). It is better to over-estimate the hose length. Let's assume the hose measures 10 metres in length.
4. As a guide, you will need approximately 1000 Litres/Hour for every 10cm of stream width. In our example, the stream measures 60cm wide, so we need 6000 Litres per hour at the point of discharge (the top of the stream). This will produce a gentle flow of water down the stream - if you require a more dramatic display, we suggest doubling or trebling this figure.
5. Next, we need to calculate the friction losses through the hose. Let's stick with 6000 Litres/Hour (100 Litres/Minute) down the stream.
Take a look at the chart below. Let's compare the difference between using a 25mm (1") Internal diameter flexible hose and a 40mm (1 1/2") hose.
On the '25mm - 1 inch' section of the chart, we need to look at the '100 Litres/Min' line. You will notice that the chart reads '0.34MWC'. This essentially means that for every metre of flexible hose used, it is the equivalent of pumping uphill by 0.34m. As we have 10 metres of hose, this equates to a 'loss' of water flow of 3.4m. Now, let's compare by using 40mm - 1 1/2" Hose at 100L/minute.
0.03MWC x 10 metres of hose = 0.3m loss. Using this larger hose has reduced friction losses by more than 11 times that of the smaller 1" hose.
6. Based on the friction losses, we can now look at selecting the most suitable pump. In this instance, let's use the 'performance curve' from the Oase Aquamax ECO Premium pond pumps.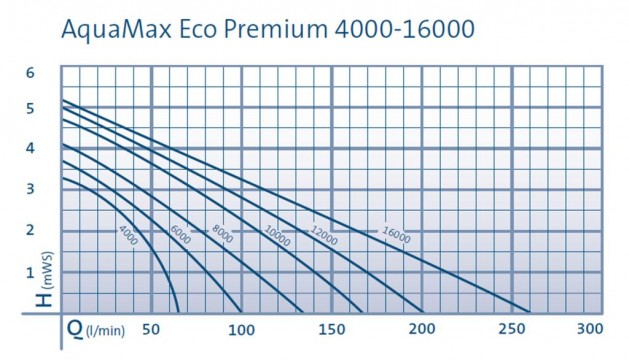 If we choose the 40mm - 1 1/2" Hose, we simply add the actual vertical lift to the top of the stream (1.5m) to the Friction Loss (0.3m) = 1.8m total vertical lift. We need therefore need 100L/Min @ 1.8m Height, so follow the vertical line at the bottom of the chart upwards until you reach 1.8m. You will notice that this falls between the Aquamax ECO 8000 & Aquamax ECO 10000 pumps.
Based on this, we would recommend the more powerful Aquamax ECO 10000 Pump, giving you a little more (rather than too little) flow, matched with 10 metres of 40mm (1 1/2") flexible hose.
NOTE: If you now compare the 1" hose (1.5m actual lift + 3.4m Friction Loss = 4.9 metres total lift), NONE of the Aquamax ECO pumps are powerful enough!
This highlights the importance of selecting the biggest hose that the pump connection will allow, to get the very best performance from the pump. If 1" hose had been selected, the pump would need to be far more powerful initially, to combat the massive frictional resistance in the hose.
Confused? Call on 02392 373735 and we'll do the head-scratching for you!.