If your pond or lake is suffering from algae issues or poor water clarity, it's likely that the water contains excess amounts of nutrients. If the water is left to stagnate, this issue can become out of control in a relatively short period. It is generally too costly and impractical to filter the water and dredging can be a very expensive option, which can also damage the ecology of the lake.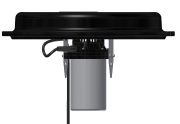 The new 5-in-1 Floating Fountain will help to tackle these issues. The system is supplied with 4 decorative fountain patterns and can also be configured as a horizonal water mixer, moving and circulating water in shallow water zones of 41cm deep or greater.
Whilst the fountain provides an attractive water display, it will also assist in pulling water up from depth, circulating and oxygenating the water at flow rates up to an impressive 115,000 Litres per hour. The floating aerator is perfectly suited to ponds and lakes up to 2000m² (around ½ Acre).
Simple to install, the aerating fountain is very economical to run, consuming a meagre 375 watts (1/2 Horsepower) and is supplied with 50 metres of single phase, 230 volt cable. Water Garden also offer an illuminated fountain option.
For more technical details and pricing, please view the 5-in-1 Floating Lake Fountain here or call the Water Garden technical team on 02392 373735 for expert advice.