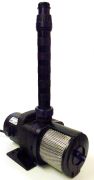 If you're looking for something different than a static water display in your pond or water feature, Water Garden Ltd may have the perfect solution. The new Dancing Fountain Pump will provide a dynamic, pre-programmed water display, causing the water plume to rise and fall in a graceful pattern.
The Fountain Pump can be directly submersed in an open pond, rill or water reservoir and contains a special processor built into the motor body itself. This processor contains a pre-set program which alters the flow rate, which effects the fountain display height at any given moment. As the 5 minute program is built directly into the pump, it is a very simple matter of connecting the 20 metres of cable to a suitable weatherproof electrical outlet and switching on – no need for a separate controller on dry land and no complex programming to worry about. The program will operate for 5 minutes and then recycle for a continuous display.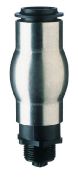 The kit is supplied with a special telescopic riser, which allow the pump to be submersed further down in the pond or reservoir whilst allowing the fountain display attachment (nozzle) to be set above the water surface. The nozzle attachment can then be easily screwed to the top of the riser, creating a wide variety of different decorative effects.
More than one Dancing Fountain Pump could be used to great effect. For example, 3 or 5 pumps could be positioned in a row which will create a 3 or 5 jet dancing display. The configuration is only limited by the cable length supplied (20 metres) and your imagination. As the pumps are completely independent from one another, these can be easily repositioned at a later date and the water effect can be changed simply by screwing a different fountain nozzle onto the extension piece. Water display heights of up to 4 metres can be achieved when coupled to one of our multi-tiered nozzles or around 1.4m height with a foaming fountain jet nozzle. Other water display options are also available.
Click to view the Dancing Fountain Pump.
If you need any further guidance on any of our products, call Water Garden's team of experts on 02392 373735.