Why Chlorine extraction is important:
Fresh mains tap water contains Chlorine which, in high enough concentration, can be potentially poisonous to pond fish. Therefore the removal of Chlorine before tap water is introduced to the pond is important for fish health. Chlorine also destroys the important biological cultures that are established within the pond and particularly within the pond filter media, where it plays a crucial role in keeping the water free of toxic ammonia and nitrite. Each time fresh tap water is introduced to the pond, these cultures diminish and fish health is affected indirectly as a result of this. By removing Chlorine from fresh water prior to this entering the pond, more of these bacteria are preserved and over all water quality is maintained at a higher level.
OASE Dechlorinator - Technical Details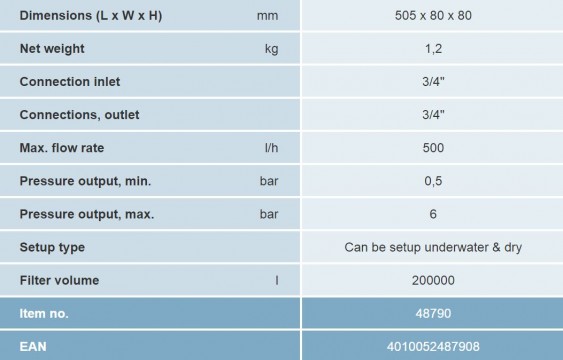 Recently viewed products...