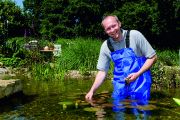 Autumn is an important time to prepare your garden pond for the (increasingly harsh) winter time ahead.
Preparing your plants, removing debris and preventing leaf fall from entering the pond are all important steps to take to get things in order, before winter sets in.
Water Garden have produced a useful article to help explain what steps you should be taking, together with guidance on the right products for the task in hand.
View our Autumn Pond Maintainance article here.