The AquaOxy 500 is a brand new addition to the OASE pond aerator range.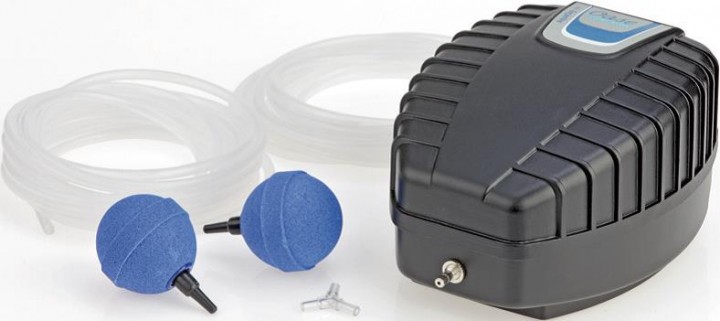 This compact weatherproof aerator is capable of effectively aerating fish ponds up to 5,000 litres in volume. The air pump mounts externally in an outdoor area, supplying air to 2 oxygen diffusing air stones situated in the pond.
The AquaOxy 500 is supplied with 2 large air stones, each with 5 metres of clear 4.5mm diameter flexible air hose. These are connected to the single outlet connector on the AquaOxy aerator unit via a transparent Y splitter which is also supplied as part of the kit. The air stones can be submerged in water depths from 0.2 metres up to 1.4 metres.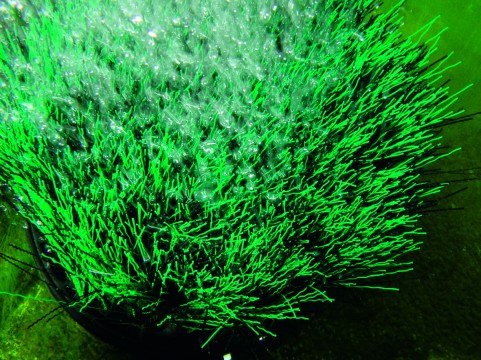 The AquaOxy aerator can also be used in conjunction with the OxyTex 400 biological air stone to increase air distribution and improve water quality through biological filtration via the green filamentous media. When used in conjunction with an existing pond filter, the OxyTex/AquaOxy combination can improve the filtration performance by up to 10%. The AquaOxy 500 can also be purchased along with the OxyTex 400 air stone as Water Garden's own OxyTex 500 CWS Set.
This aerator is perfect for enriching smaller garden ponds with vital dissolved oxygen year round and in periods of low natural supply of oxygen, such as summer and at night. This aerator and consumes only 8 watts in power and is guaranteed for 2 years with all replaceable parts available as purchasable spares.
Please call or email Water Garden for more information.