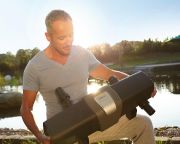 Water Garden are pleased to announce the launch of the all-new OASE Bitron ECO Ultraviolet Clarifiers, suitable for tackling green water issues on larger ornamental ponds and demanding Koi ponds.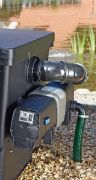 These innovative UV Clarifiers has been designed to mount directly to the OASE ScreenMatic Pond Filters or to the automated, self-cleaning ProfiClear Drum Filter. The UV can also be used independently, as a pump fed in-line UV Clarifier if required.
The main innovations include a digital controller, ultra-efficient 60 watt UV Bulbs, self-cleaning mechanism, significantly larger reactor chamber and increased flow capacity.
The Digital Controller includes water temperature monitoring, operational hour counter, on/off and Irradiation adjustment. The Bitron Controller will also inform you when any of the UV Bulbs require replacement and indicate which specific bulb.
The amount of UV radiation can be controlled very easily, allowing a reduction in power consumption during less demanding seasonal conditions.
Ideal for the most demanding Koi ponds or large fish ponds, the Bitron ECO can handle flow rates of up to 50,000 litres/hour and tackle suspended algae in ornamental ponds of up to 240,000 Litres / Koi stocked ponds up to 60,000 Litres.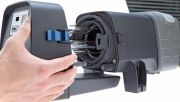 Multiple UV units can also be used to process lakes and larger bodies of water suffering algal bloom issues.
All models are now in stock at Water Garden Ltd. To view more details, video and technical data, Click here for Bitron ECO information