Bitron Eco Technical Information
Bitron ECO
Dimensions L x W x H
725mm x 227mm x 248mm
Rated Voltage
220-240V / 50 / 60Hz
Power Consumption
120 watts
180 watts
240 watts
Power Cable Length
5 Metres
Weight
7.9kg
8.1kg
UVC Power
120 watts
180 watts
240 watts
UVC Operating Hours Meter
12,000 hours
Temperature Display
Digital
Bypass Control
Automatic
LED Function Controller
Yes
Number of Inlets
1
Inlet Connections
1 1/2" (38mm) / 2" (50mm)
Number of Outlets
1
Outlet Connections
1 1/2" (38mm) / 2" (50mm)
Maximum Flow-through Rate
50,000 litres per hour
Maximum Operating Pressure
1 bar (10 metres)
Suitable for Ponds with No Fish
120,000 litres
180,000 litres
240,000 litres
Suitable for Goldfish Ponds
60,000 litres
90,000 litres
120,000 litres
Suitable for Koi Ponds
30,000 litres
45,000 litres
60,000 litres
OASE Filter Connection
ProfiClear, BioTec, BioTec ScreenMatic
Guarantee
2 + 1 (3 years total)
Bitron ECO Controller Details: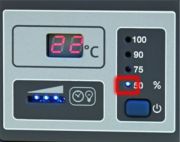 4 intensity levels can be adjusted in the control panel display enabling adjustment of the UVC power output, helping to keep running costs as low as possible.
UVC Lifetime Counter and Function control.
Display shows water temperature, UV Bulb lifetime status and systems information.
Button allows you to choose the ECO mode, reset the lifetime counter and switch the device on and off.
LED indication shows ECO mode (Green LED) & Irradiation Phase (Blue LED).
Related tech articles and downloads
Recently viewed products...