A brief introduction to the new OASE products available at Water Garden in 2021.
NEW OASE Fountain Pumps
Aquarius Fountain Set Classic E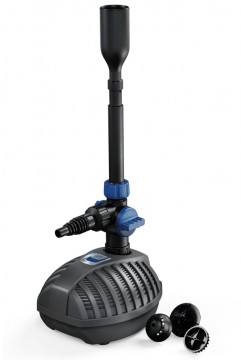 The new Aquarius Fountain Set Classic E range consists of 3 new mid-range fountain pump sets. These new models 2000 E, 3000 E and 4000 E sit between the smaller Aquarius Fountain Set Classics and the grander Aquarius Fountain Set Eco models, replacing original Classic models (1500, 2500 and 3500) with more energy efficient alternatives. As with the original Aquarius Fountain Set Classic models, the new Aquarius Fountain Set Classic E are supplied with 3 fountain patterns, a telescopic riser and 2 way flow diverter/second outlet for hose pipe connection.
OASE Aquarius Fountain Set Classic 2000 E
OASE Aquarius Fountain Set Classic 3000 E
OASE Aquarius Fountain Set Classic 4000 E
Aquarius Eco Expert 20000 / 12V Pump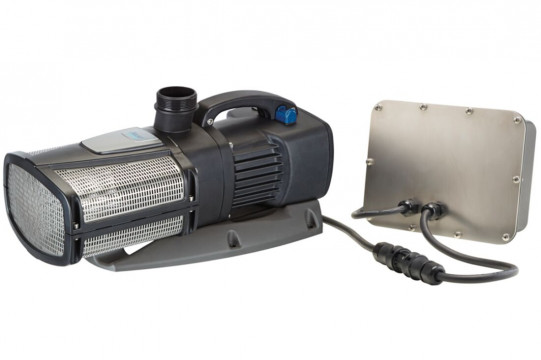 The new Aquarius Eco Expert 20000 12V pump is a powerful fountain pump that operates on a 12 volt power supply via a transformer. 12 volt is considered a safe power supply for human access, making this pump ideal for operating fountains and water features in large swim ponds. The pump can deliver a flow rate up to 20,000 litres per hour and features a dynamic function switch which can be engaged to enable a variable speed (dancing) program to run. The pump can be controlled via EGC with compatible OASE EGC devices.
Aquarius Eco Expert 20000 / 12V
NEW OASE Filtration Pumps
Pontec PondoMax Eco C Pumps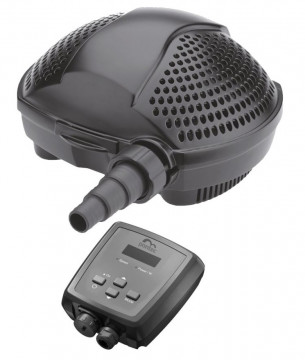 The PondoMax Eco C are a new range of controllable pumps from OASE Pontec. These pumps differ from the existing PondoMax Eco pumps, as these 3 new models can be electronically regulated via a special control box at the end of the pump power cable. This controller can be used to switch the pump on and off, and also to increase or decrease the flow from the pump using the up/down arrow buttons. These pumps are ideal for pond filtration systems, streams and waterfalls, especially in cases where a specific flow rate, or some adjustability is required.
AquaMax Eco Expert 27000 / 12V Pump
The new AquaMax Eco Expert 27000 12V pump is the latest addition to the OASE 12 Volt filter pumps range and becomes the most powerful 12 volt pump currently available. The pump is designed for swim pond filtration system pumping and is also ideal for streams. The pump operates via a transformer, which sends safe 12 volt power to the pump. The pump has an inbuilt seasonal flow control switch which can be engaged for automatic flow reduction in Winter. This pump is compatible with the OASE EGC control devices and software.
AquaMax Eco Titanium 81000 Pump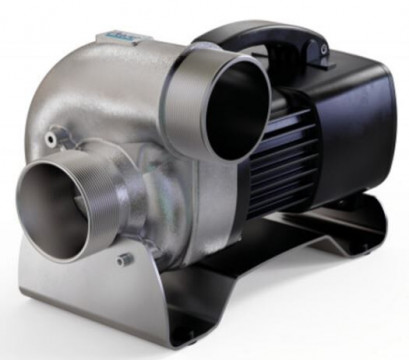 The AquaMax Eco Titanium 81000 is the newest and most powerful addition to the OASE range of AquaMax Eco filter pumps. The AquaMax Eco Titanium 81000 delivers an impressive 81,000 litres per hour maximum flow rate! This pump is ideal for high flow filtration systems and watercourses. The pump motor is electronically adjustable, with a maximum power use of only 730 watts, which can be reduced down to 100 watts if an electronic regulation or EGC device is connected. This pump is ideal for use with the OASE ProfiClear Premium XL range of modular Koi pond filters.
OASE AquaMax Eco Titanium 81000
NEW OASE Aquarium Filter and Heater
BioMaster 850 Aquarium Filter and HeatUp 400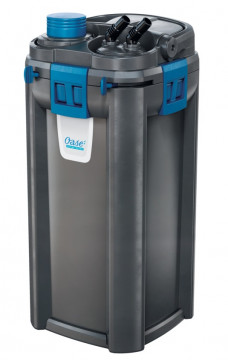 The BioMaster 850 and BioMaster 850 Thermo external aquarium filters are a new addition to the existing BioMaster filters range. The BioMaster 850 is now the largest BioMaster filter in the range, with an integral 1,550 litre per hour pump, suitable for filtration of fish tanks up to 850 litres. For large coldwater aquariums, the BioMaster 850 is ideal, and for tropical tanks, the BioMaster Thermo 850 comes pre-fitted with a new HeatUp 400 watt tank heater. The new HeatUp 400 can be purchased separately and added to the BioMaster 850 at a later stage to effectively convert the filter to a Thermo if required. The new BioMaster 850 has all of the same filtration media and innovative EasyClean features of the other BioMaster filters.

NEW OASE Copper Water Feature Bowls
Copper Bowl Water Features

New range of 5 real copper bowl water features in a variety of sizes, shapes and styles. These beautiful brushed copper bowls feature connections on the underside, which can be used as water inlets for pumps, or cable channels for LED lights to be installed within the bowl when used with the special cable seal fitting. These copper bowls can be used singly, or stacked to create tiered cascading features. The large copper bowl is a simple water holding bowl, which makes for an ideal bottom tier or independent feature. The other 3 circular copper bowls and the square bowl feature cascading spillways and can be used as higher tiers, or installed over a sunken reservoir as standalone water features. There is a copper pedestal available which can be used to elevate bowls for tiered cascades.
Copper Pedestal for Copper Bowls
Circular Copper Bowl with Small Spillway
Circular Copper Bowl with 4 Spillways
Circular Copper Bowl with Large Spillway
Square Copper Bowl with Spillway
NEW OASE Brass Wall Spouts
Decorative Brass Wall Spouts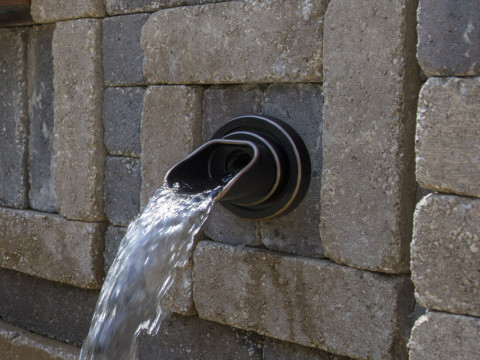 These attractive new Wall Spouts offer a decorative water outlet for wall water features. Multiple wall spouts can be connected and operated from a single pump, with a recommended 2,000 litres per hour per wall spout. These spouts are made entirely from Brass, and come in Bronze effect or Copper effect finish. There are 4 styles of spout available, and each style (Circle, Square, Rhombus, Ellipse) is available in both Bronze and Copper finish. There is a warm white LED which can be installed at the rear of the spout inlet pipe to illuminate the cascading water.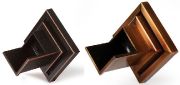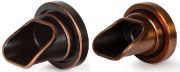 Water Spout LED Light - Warm White
NEW OASE Solar LED Lights
Solar LED Pond Spotlights – Set of 3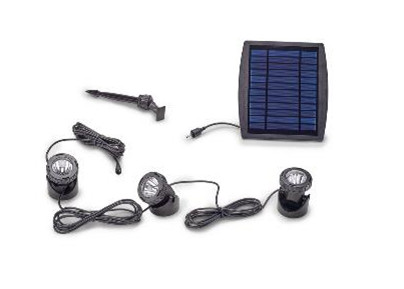 New set of 3 small white solar powered pond and garden lights. The set is supplied complete and ready to use. The 3 LED lights are connected in sequence, with a 1.5m cable between each LED light. The solar panel connects to the first light with a 5 metre lead. The solar panel has a built in lithium-ion battery which stores power during the day. A ground spike is supplied to secure the solar panel. At dusk, the lights turn on automatically. These lights are suitable for outdoor and underwater installation.
Solar LED Pond Spotlights – Set of 3
NEW OASE Pond Water Treatments
DuoBoost Pond Water Treatment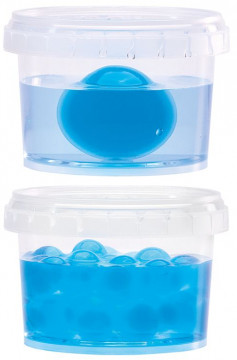 New DuoBoost is a pond water treatment consisting of soluble, blue gel mineral balls immersed within a highly active bacterial clear gel. The clear gel is applied directly to the pond water, introducing millions of beneficial bacteria to assist filtration and breakdown unwanted toxins in pond water. The clear gel also assists with the breakdown of sludge in the pond. The blue gel balls dissolve at a slower pace, for a more prolonged process of treatment, gradually releasing vital trace elements and co-substrates to improve water quality and ecosystem health. The blue gel ball can be placed directly into the pond, or placed inside a pond filter. A mesh bag is supplied to contain the gel ball if being placed in the pond. This prevents the treatment being consumed by fish. Gel Balls are 2cm and 5cm diameter. 250ml treatments consist of numerous 2cm gel balls, or a single 5cm gel ball, both in clear gel, for ponds of 20-30,000 litres. A larger 2,500ml treatment is also made, consisting of multiple 2cm gel balls in clear gel. This treats up to 90,000 litres of water.
AquaActiv AlGo Direct 5l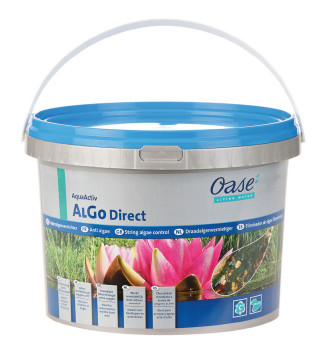 AquaActiv AlGo Direct is a water treatment for effective treatment of string algae/blanketweed in ponds. The 5 litre bucket treatment is for larger ponds and can treat single bodies of water up to 100,000 litres in volume. AlGo Direct acts fast to suppress filamentous algae that can be an unsightly issue which spreads quickly if not addressed. Blanketweed can be especially prolific in running water such as watercourses and streams. AlGo direct works with active Oxygen to reduce growth and is suitable for use in swim ponds and wildlife ponds. KH quick test included. There is also a 500ml bottle treatment available for ponds up to 10,000 litres water volume.
AquaActiv AlGo Universal 5l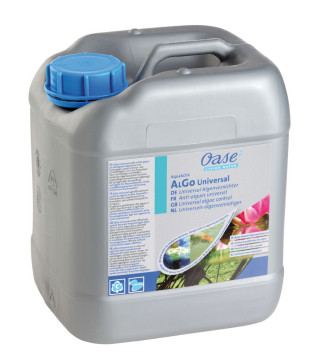 AquaActiv AlGo Universal is a new water treatment for combatting most common algae types encountered in a pond by inhibiting photosynthesis and thus preventing regeneration of algae cells. AlGo direct also acts to interfere with the metabolization of algae cells, which effectively starves the algae. This treatment effectively combats green water, and is also effective at supressing string algae, brown algae and floating duckweed on the pond surface. The 5 litre bottle of AlGo direct is sufficient to treat larger ponds up to 100,000 litres water volume. For smaller ponds, use AquaActiv AlGo Direct 500ml.
NEW OASE Fountain Water Treatment
AquaActiv AlGo Fountain 5l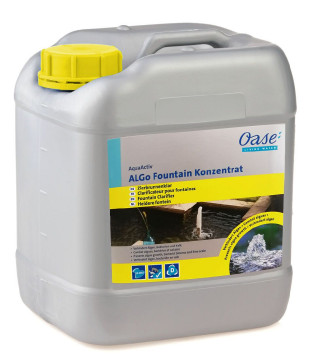 New AquaActiv AlGo Fountain is an effective, fast acting disinfectant water treatment especially formulated to combat bio-fouling of decorative fountains and water features. AlGo Fountain keeps fountain water clean and clear, preventing the typical issues of algae growth, bad odours and biofilm that can be present in stagnating fountain water. AlGo Fountain also kills bactera and fungi in the water. This product also acts to prevent lime scale deposits on feature surfaces. This 5 litre water treatment is sufficient to treat 10,000 litres of fountain water and is ideal for large fountains or multiple doses in smaller features. AquaActiv AlGo fountain is safe for use in fountains that pets may drink from if used within the recommended guidelines.
NEW OASE Lake Water Treatments
Lake Therapy Water Treatments

New lake water treatments formulated to combat a variety of lake water quality issues.
OptiLake can be used to buffer pH fluctuation in lake water, create a more stable and less volatile ecosystem. OptiLake uses calcium and carbon dioxide to improve water quality.
ClearLake 5kg, 10kg, 25kg and 50kg
ClearLake manages water health and clarity using micro-organisms to consume organic pollutants such as fish waste, food residue, fertilizer and dead plant matter. For clear and healthy water.
SeDox 5kg, 10kg, 25kg and 50kg
SeDox effectively reduces phosphates in lake water, which is the primary cause of algae and excessive plant growth, thus reducing this growth also.
SeDox Speed does the same job as SeDox (algae suppressing through phosphate conversion), but is a higher strength treatment that acts faster than standard SeDox. Use when fast results are required.
SchlixX 10kg, 25kg, 50kg and 500kg
SchlixX can be used to oxygenate sludge and silt on the lake bed, reversing anaerobic conditions and allowing micro-organisms to consume the sludge biomass faster.
PeriDox 10kg, 25kg, 50kg and 500kg
PeriDox is a fish health treatment that prevents necrosis and mucous congestion on the gills and skin of fish. PeriDox attacks the cell structure of fish parasites, effectively killing them.
AlgoLon 5kg, 10kg, 25kg and 50kg
AlgoLon tackles filamentous algae types and slime/mould that creates unsightly conditions in the lake. AlgoLon works by releasing active Oxygen into the water and gets results fast.
AlgoClear 5l, 10l, 50l and 100l
AlgoClear tackles green water caused by single-celled algae blooms. Single-celled green and harmful blue-green algae reproduction is effectively stifled, keeping water clear and healthy.
NEW OASE Pond Nets
Handle Nets
There are 5 new aluminium handled nets added to the range for 2021.

The Pond Net Triangular is a multi-use pond net with a triangular head and rounded corners. The net mesh is 4mm, which is ideal for fish capture, retention and debris skimming.
The Pond Net Rectangular is a wide net with a rectangular head. The medium 5mm mesh is good for all round pond use. The wide net is ideal for collecting floating debris.
The Fish Net Foldable has a hinge between the handle and the triangular net head, allowing this product to be collapsed for easy transportation and storage. The net mesh is 5mm.
The Fish Net Extra Large has a 56cm wide circular net head and fine 2mm mesh. The large size of the net head makes this net ideal for safe capture and retention of larger fish.
The Fine Triangle Algae Net has a fine 2mm mesh. The narrowest point of the net head is the tip, making this net ideal for skimming floating algae in tight, hard to reach spots.
Please Contact Us for availability.