BioTec Premium 80000 Drum Filter - Technical Details and Recommendations
Water Garden recommend the use of 2" Internal Diameter Smooth Bore Flexible Hose for connection between the pump and UV Clarifier (Pump & UVC not supplied with BioTec Premium Filter) to maximise the water flow.
We suggest the use of an Oase Aquamax Eco Premium 16000 solids-handling Pump (the Biotec Premium has a maximum flow through rate of 12,500 Litres/Hour). In instances where the filter needs to be elevated above the pond, a more powerful pump can be used to help combat the additional vertical lift.
The use of a Bitron 110C Ultraviolet Clarifier or the new Bitron Eco 120 UVC is recommended to help effectively combat single celled algae which will then be taken out of the system by the BioTec Premium's automated Drum Module. The Filtration Module is specifically designed to accept the Bitron UVCs, mounting neatly and directly to the Biotec Premium housing.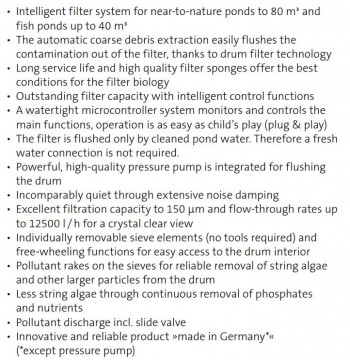 Recently viewed products...