BioTec ScreenMatic Filters
The newly developed OASE BioTec ScreenMatic Pond Filters are designed to offer superb cleaning in larger ornamental ponds, fish ponds and Koi Carp stocked ponds. The new design ScreenMatic gravity flow-through filters feature an automated porous cleaning belt which will sift out larger debris and deposit this into a collection tray, allowing the filter foams to process the smaller detritus and therefore greatly reducing the frequency of cleaning.
Biotec 30 Pond Filter

Price

£1,330.00

exc. VAT

Price

£1,596.00

inc. VAT
In addition to the automated screen, the new BioTec ScreenMatic² also features specially developed filter foams which are graded from coarse to fine to remove finer particulates from the pond, resulting in crystal clear water quality. Inside the filter box are a series of Zeolite cartridges for binding trace ammonia and undesirable nutrient which can be recharged using a saltwater solution. The filter foams are easily cleaned using the supplied cleaning handle which compresses the foams to release trapped debris, without the need to physically handle the sponges.
The new BioTec Premium 80000 notches the automated cleaning to a new level, utilising rotating drum technology to automatically remove pond debris and we also supply this as a packaged set with optimised pump and UVC. Water Garden Ltd provide a range of packaged filter systems for the BioTec ScreenMatic², in addition to the individual filter boxes. Packaged Sets include the innovative OASE AquaMax Eco Premium pump and Bitron Ultraviolet Clarifier for superb performance and energy efficiency.
Choosing the right BioTec ScreenMatic² Filter for your pond.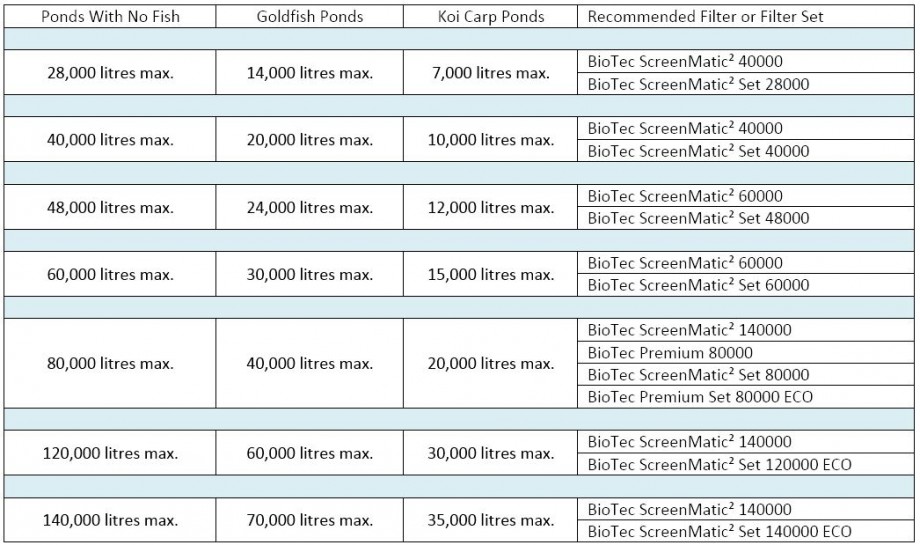 BioTec Replacement Foams