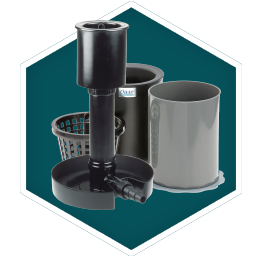 Surface Skimmers
Pond surface skimmers are a very useful tool in removing unsightly surface debris such a pollen, leaves, seeds and dust particles. If debris and organic matter is allowed to sink into the pond, this will slowly decay and gradually affect the pond water quality during this decomposition process. The OASE AquaSkim 20 & 40 can be connected to the Aquamax Premium pumpís secondary inlet, providing a secondary point of suction on the pond surface. Independent floating skimmers such as the SwimSkim can be positioned wherever debris tends to collect and these contain their own integrated pump. Large ponds and lakes can be catered for using the Floating Lake Skimmer 250LM, for surface areas up to 250m2.
OASE Germany have produced a range of pond surface skimmers to help remove problematic floating debris such as leaves and pollen. This debris, if left unchecked, will sink to the base of the pond and cause water quality issues as this rots down over time. Removing the debris from the surface before it settles will put less load on your pond filter, prevent pumps from blocking and reduces the requirement for vacuuming out the pond floor or draining.
Floating skimmers such as the Oase SwimSkim simply require connection to an electrical outlet and will float on the pond surface, drawing in surface debris via its own integrated pump. The debris is then collected in a collection hopper, ready for emptying periodically.
Fixed skimmers such as the Oase AquaSkim can be connected to a suitable submersible pump inlet and will suck debris into the collection hopper. The base can be weighted down and the skimmer will sit on the pond floor or shelf in the most convenient location. Solids-handling pumps such as the AquaMax Eco Premium range have a second point of suction which will allow convenient connection of the AquaSkim and the pump can be adjusted to split the suction amount between the skimmer and the pump housing.
Wall Skimmers are ideally installed at the construction stage and are integrated into the pond liner or fibreglass work. The BioSys Skimmer + and the new Oase ProfiSkim Wall 100 can be fixed into the side of the pond similar to a swimming pool skimmer and offer an unobtrusive yet powerful means of removing surface debris.
For larger ponds and lakes, the Floating Lake Skimmer 250LM can be used to extract detritus and will influence a surface area of up to 250m². The floating design allow the lake skimmer to move up and down with water level fluctuations which is commonplace in larger water bodies.